By Dean Rogers
Last week, speculation that a possible meeting next month between Russia and OPEC to discuss production cuts fueled WTI's price rise. This would be the type of transition that needs to take place for oil prices to recover over the course of the long-term. However, many are skeptical, and some reports indicate that this may be nothing more than verbal attempts to keep prices from aggressively sliding lower.
The market's hesitance to push higher became evident on Thursday when March WTI stalled just above the $34.4 projection of the wave $27.56 – 32.74 – 29.25. The pullback from $34.82 formed a blow-off high and Friday's evening star setup was confirmed by Monday's decline. WTI has already retraced nearly 50 percent of the move up, and is poised to continue its decline.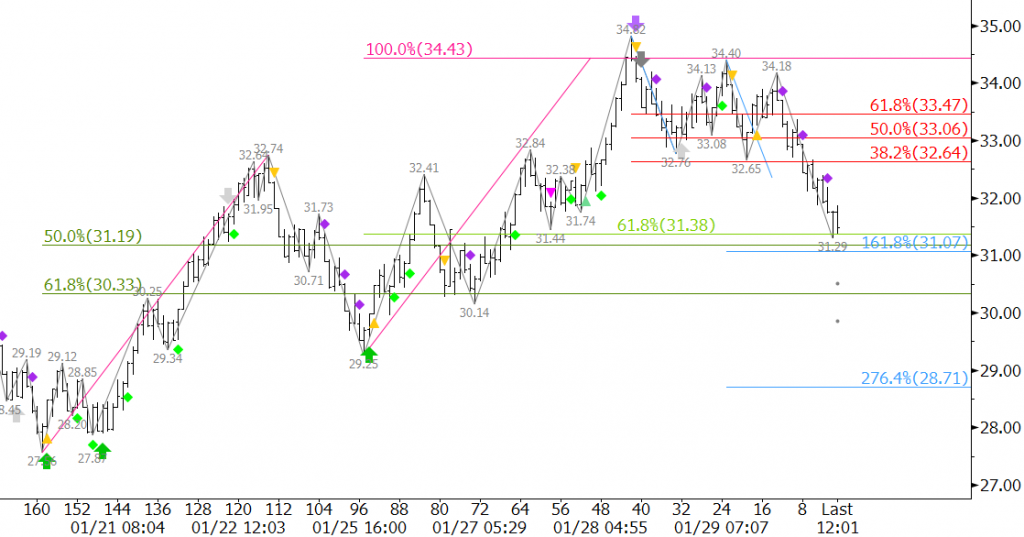 The move down has been confirmed by KaseX sell signals (purple diamonds), and WTI is now sitting just above crucial support at $31.1. This is a highly confluent wave projection and retracement. A close below $31.1 would call for $30.3, and at best, would indicate prices are going to settle into a trading range while the market sorts itself out. Given the magnitude of Monday's decline, WTI could be hard pressed to hold $31.1 and $30.3.
Trading has been erratic over the past two weeks, and last week prices also pulled back significantly to test support at $29.25 early in the week. There is an outside chance that the move up will continue, but for now, we expect that Monday's $32.7 midpoint will hold. A close over $32.7 would call for $33.5 and possibly $34.4 again.
This is a brief analysis and outlook for the next day or so. Our weekly Crude Oil Commentary is a much more detailed and thorough energy price forecast. If you are interested in learning more, please sign up for a complimentary four-week trial.