Late last week, June WTI crude oil challenged key resistance at $44.5. This is a confluence point, and most importantly, the 1.618 projection of Wave I (not shown), $30.79 – 38.52 – 32.1. A close over $44.5 will open the way for the next leg higher, which could push WTI crude oil prices into the upper $40s and possibly the low $50s.
That said, a small double top formed near $44.5 on Friday and was confirmed Monday upon the close below $43.05. The confirmed double top and waves down from $44.49 and $44.45 call for the pullback to extend to at least $42.1 and likely a confluence area near $41.6.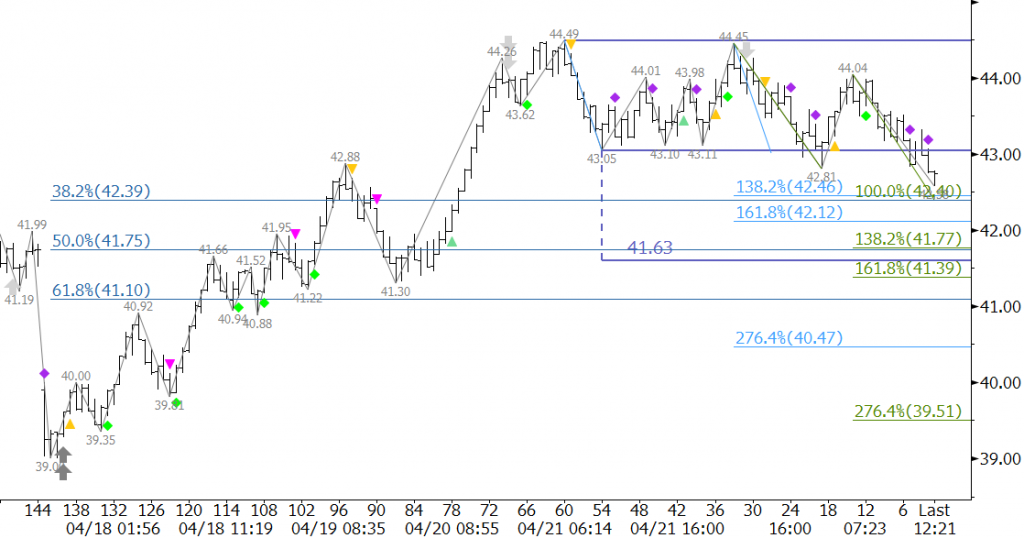 The move down has been shallow and choppy though, indicating it is most likely corrective of the move up. Unless $41.6 is taken out on a sustained closing basis, we still expect prices to attempt to overcome $44.5 again. A move above $43.3 in early trading tomorrow would call for $43.8 and possibly $44.5.
This is a brief analysis and outlook for the next day or so. Our weekly Crude Oil Commentary is a much more detailed and thorough energy price forecast. If you are interested in learning more, please sign up for a complimentary four-week trial.