Forecasts for warmer than normal temperatures next week in the Midwest and mid-Atlantic spurred natural gas higher on Tuesday. For several weeks the May natural gas contract oscillated in a range between approximately $1.86 and $2.04. The range was finally broken when prices settled above $2.04.
That said, the move up may have been too much too soon. Early Wednesday, the 1.00 projection for the wave $1.731 – 2.032 – 1.837 was met at $2.137. For weeks, this is a target we have been following and have stated is a crucial wave projection and decision point. A close over $2.14 would call for an extended upward correction that could ultimately transition into a long-term recovery.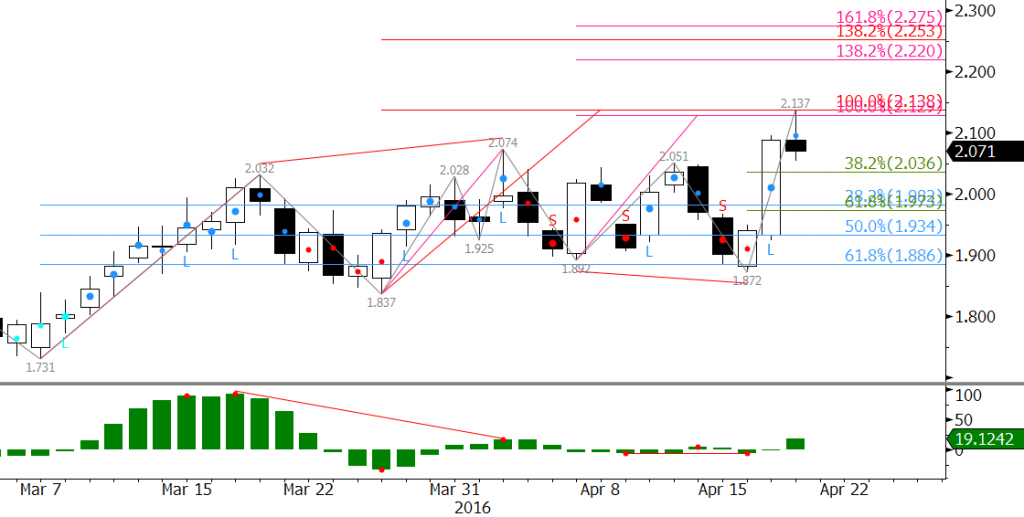 We doubt this will be the case. The move up is most likely corrective, and the market is trying to establish an upper boundary for a longer-term range. However, the potential for a long-term recovery is there should prices sustain a close over $2.14.
May has already pulled back from the $2.137 swing high and closed below an important $2.08 target on Wednesday. There are bearish daily divergence setups, confirmed intra-day overbought signals, and the wave formations call for a test of at least $2.04 on Thursday. A close below $2.04 would call for $1.97 and possibly $1.89.
This is a brief natural gas forecast for the next day or so. Our weekly Natural Gas Commentary is a much more detailed and thorough analysis. If you are interested in learning more, please sign up for a complimentary four-week trial.