By Dean Rogers
Many market participants are skeptical of Brent's meteoric rise over the past three days. However, there is no denying the positive technical factors that indicate a bottom has likely been made. The monthly morning star setup and hammer, weekly bullish engulfing line, and daily three white soldiers candlestick patterns are reliable reversal patterns. KaseX also triggered reversal signals (gray arrows) early last week.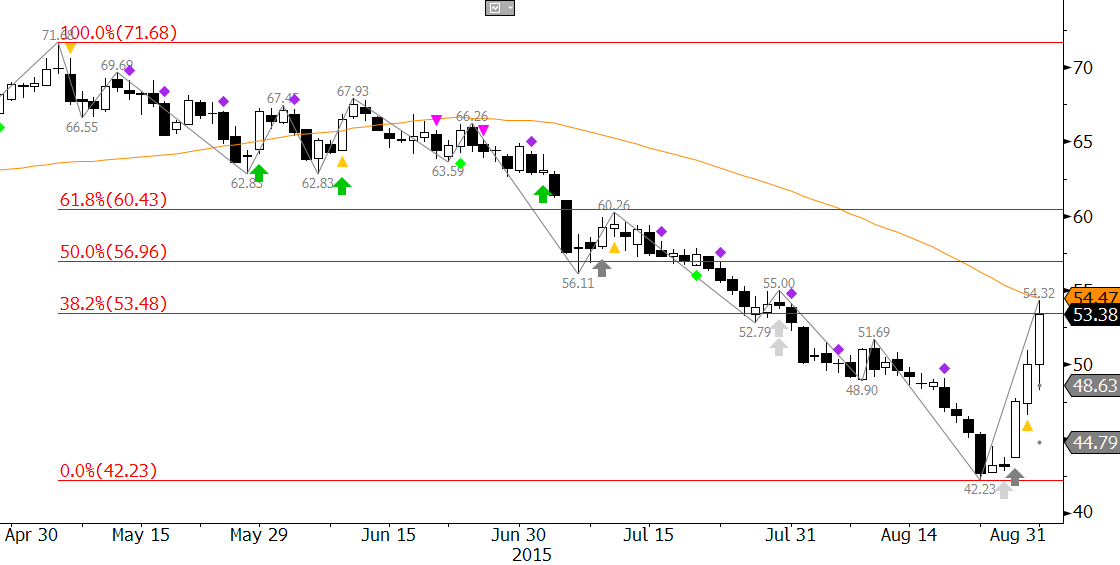 Brent is on the teetering edge of confirming a sustained bullish outlook and has risen to the 50-day moving average at $54.47, the 38 percent retracement from $71.68, and the upper standard deviation band. A close over $54.5 will confirm a positive outlook and call for $55.4 and higher.
That said, because of the confluence of technical resistance at $54.5 this is a very likely stalling point. We expect a test of support at $51.9 within the next few days and likely before Brent closes over $54.5. A close below $51.9 would call for $50.6 and $49.7. The latter must hold for the near-term outlook to remain positive.
This is a brief Brent oil forecast and outlook for the near-term. Our weekly Crude Oil Commentary is a much more detailed and thorough energy price forecast. If you are interested, please sign up for a complimentary four week trial.