Natural gas prices have risen sharply over the past seven days. July rose to $2.501 in early trading Wednesday, overcoming the continuation chart's $2.495 high for 2016. Reports indicate the surge has been due to forecasts for higher temperatures in coming weeks. However, some think the move up may be too aggressive considering storage levels are still 35 percent higher than the five-year average for this time of year.
Technical factors have been positive too. Last week's close over key resistance at $2.38 cleared the way for at least $2.57 and possibly higher during the course of summer months. Overall, the outlook is positive for the longer-term.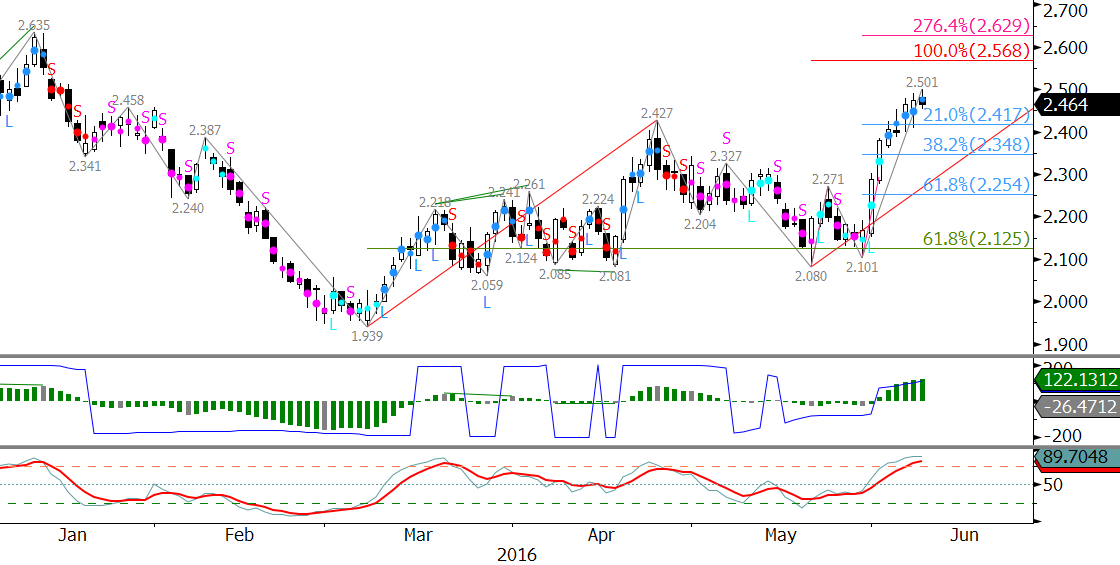 That said, the move up may have been too much too fast. The KasePO and Stochastic are in overbought territory and the move up is due for a correction soon. In addition, the market will need to close over the perpetual's $2.495 swing high to definitively overcome this important resistance level.
Odds ultimately favor at least $2.57, especially upon a close over $2.495. However, today's evening star setup and failure to close over $2.495 indicate a correction to $2.42 and possibly $2.35 should take place before $2.57 is overcome.
This is a brief natural gas forecast for the next day or so. Our weekly Natural Gas Commentary is a much more detailed and thorough analysis. If you are interested in learning more, please sign up for a complimentary four-week trial.