Prompt month natural gas futures have risen just over 20 percent after the June contract's expiration last Thursday. Reports indicate traders are expecting increased demand for the fuel due to warmer than normal summer weather in coming weeks. Technical factors have also turned positive and call for rising prices to challenge and likely overcome the 2016 highs made in early January.
The technicals turned positive last week, ahead of the June contract's expiration, when July natural gas held crucial support at $2.13 on a closing basis. This was the 62 percent retracement of the move up from July's $1.939 contract low to $2.427. The spread between June and July had weighed on July, but once June expired, July was primed to rise to challenge key resistance levels this week.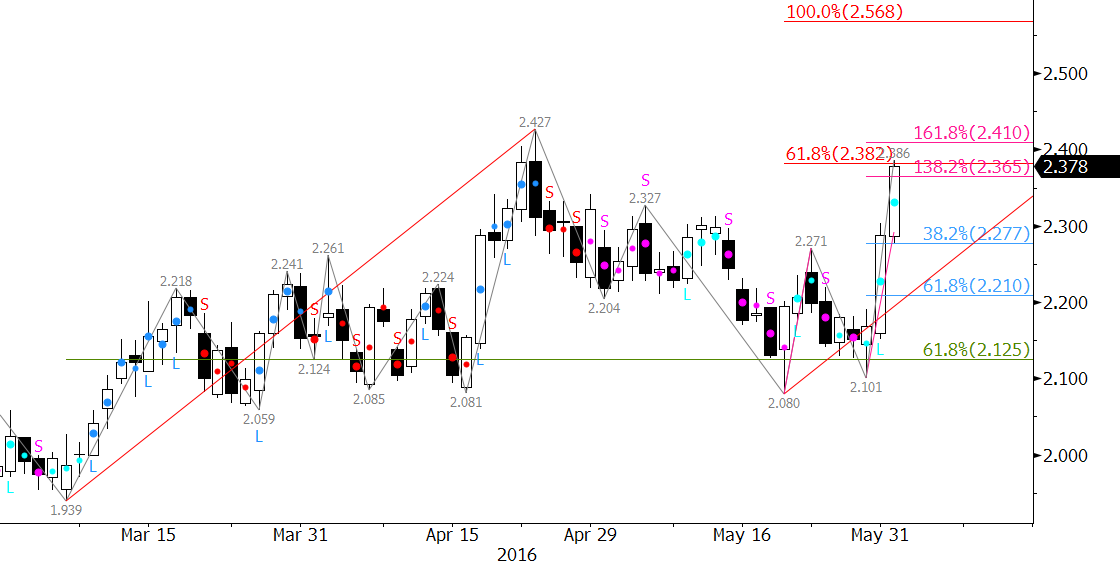 Tuesday's close over $2.22 opened the way for key resistance at $2.38. This is the 0.618 projection for the wave $1.939 – 2.427 – 2.08. Waves that meet the 0.618 target normally (75-80 percent of the time) rise to at least the 1.00 projection. Therefore, now that $2.38 has been met, odds ultimately favor at least $2.57, the 1.00 projection.
That said, the confluence of targets near $2.38 indicates it may hold, at least initially. Any move down at this point is likely corrective of the move up, and a pullback should hold $2.27 and no lower than $2.20. Ultimately, we expect July to close over $2.38 and rise toward $2.57 within the next few weeks.
This is a brief natural gas forecast for the next day or so. Our weekly Natural Gas Commentary is a much more detailed and thorough analysis. If you are interested in learning more, please sign up for a complimentary four-week trial.