The spread between the June and July contracts ahead of June's expiration on Thursday has weighed on the front of the market. However, July natural gas challenged crucial support at $2.13 Wednesday and held this level on a closing basis while June stalled again near key support at $1.95. The longer-term is beginning to look more positive for natural gas, and once June expires, July is poised to rise toward key resistance at $2.31.
Wednesday's close over $2.17, the midpoint of Tuesday, was positive for the near-term. Tomorrow, look for July to test $2.21. A close over this would then call for $2.25 and $2.31. Overcoming $2.31 would open the way for an extended move higher.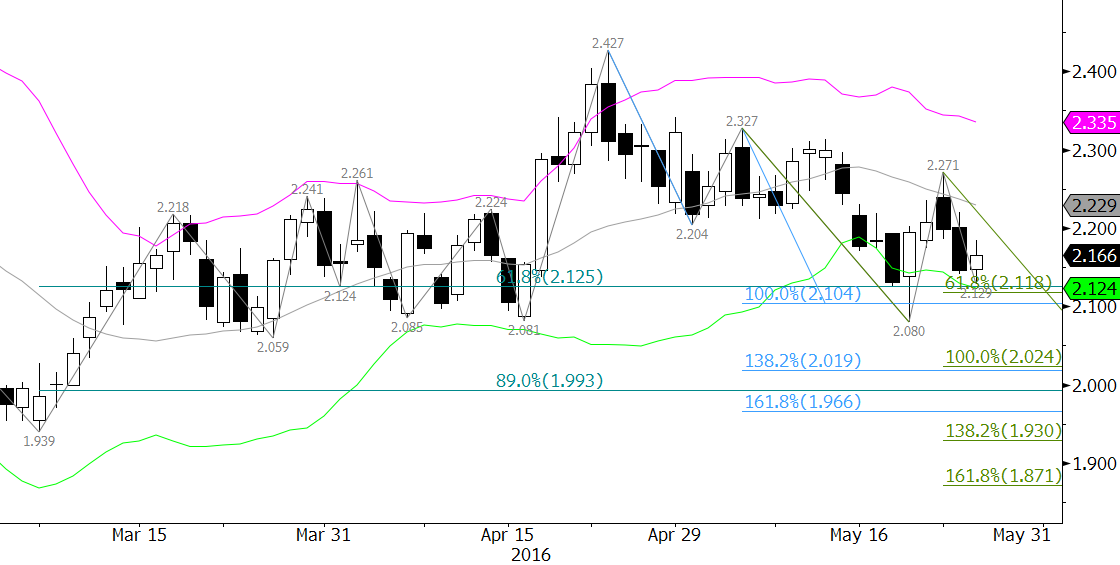 Trading will likely remain choppy for the next few days, especially ahead of the holiday weekend, and $2.13 is still crucial support. It is in line with projections for the waves down from $2.427 and $2.327. It is also near the 62 percent retracement of the move up from $1.939 to $2.427 and is the close of May 18. A close below $2.13 would call for $2.08 and possibly $2.00. July might test a bit lower, but we still do not see evidence that July will fall lower than $2.00.
This is a brief natural gas forecast for the next day or so. Our weekly Natural Gas Commentary is a much more detailed and thorough analysis. If you are interested in learning more, please sign up for a complimentary four-week trial.