By Dean Rogers
It is a glorious time of year. The evenings are cooler, the air is a bit crisper, and the seven month void in my soul has been filled. Football season is upon us, and all is right with the world.
I grew up playing football and my father and uncles coached youth football for over 30 years. Being a coach's son I have always had an appreciation for the tactical side of the game, especially low scoring (some might say boring) defensive struggles. These games are won not only by raw talent, but strategy, patience, and perseverance.
A defensive battle on the gridiron reminds me of the natural gas market right now. From the outside looking in most see a stale and boring game being played. It is a bit like watching grass grow and they have already switched channels to watch a more exciting game. However, there is a battle taking place between bulls and bears and natural gas's game is nearing the end of the fourth quarter.
My money is still on the bears (hopefully Cutler has been benched).
Natural gas has oscillated in a range that is widening ever so slightly since August 24. The pattern it forms is called an expanding triangle, which is negative because the market entered the formation after falling from $2.959 to $2.641. Expanding triangles form when there is mounting indecision and typically has bearish ramifications.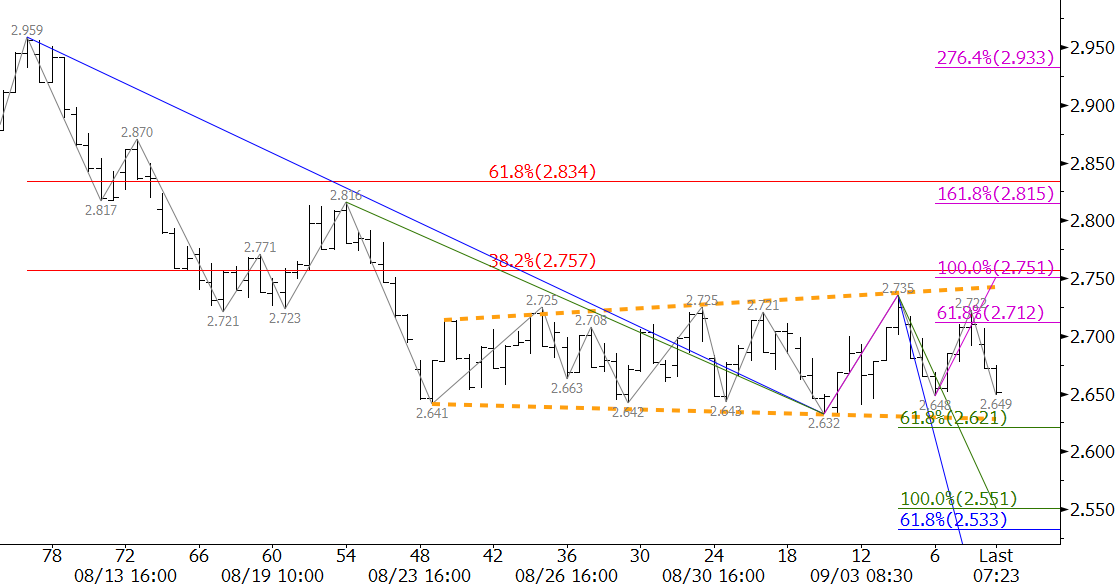 The bulls may attempt one last Hail Mary before all is said and done. Another test of the upper end of the wedge near $2.75 might take place over the next few days, but odds continue to favor a decline to $2.54 and lower once prices break out of the triangle and close below $2.62.
The natural gas game may go into overtime, and it may be another week or more before prices finally break lower. For now though, stick to your strategy, be patient, and persevere.
This is a brief natural gas forecast ahead of tomorrow's EIA report. Our weekly Natural Gas Commentary is a much more detailed and thorough analysis. If you are interested in learning more, please sign up for a complimentary four week trial.