This is an important time for natural gas because the market is moving out of the spring shoulder months and into summer. The market had been poised to test the contract lows, which it did, but the lows held and prices reversed higher this week.
The July natural gas futures contract closed above $2.78 resistance on Tuesday and was driven by warmer temperatures in much of the eastern half of the U.S. To sustain the move warm weather will need to persist and key resistance at $2.92 must be overcome on a sustained closing basis. The market tested $2.92 in early trading Wednesday, but this level has held on a closing basis so far.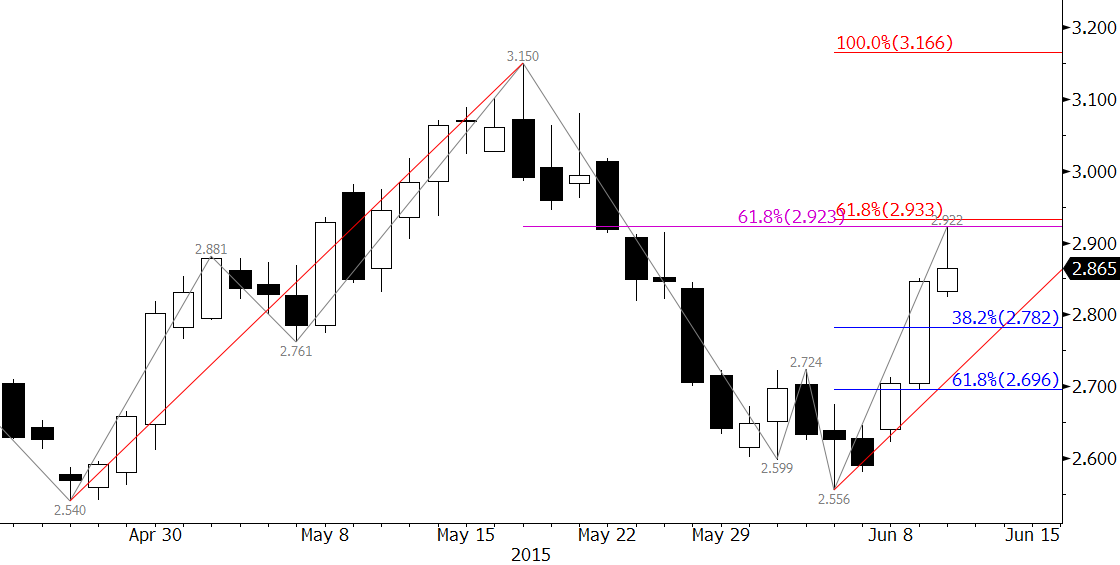 The $2.92 target is the gateway for a sustained summer rally because it is currently the most confluent target on the chart and makes connections to targets near, and well above, July's $3.15 swing high. It the 62 percent retracement from $3.15 and the 0.168 projection for the move up from $2.54. A close over $2.92 will call for July's $3.15 swing high to be challenged because the 1.00 projection for the wave up from $2.54 is $3.166.
The $2.92 level will probably be overcome in early trading tomorrow on an intraday basis, but again, the key will be a sustained close over $2.92. In fact, if there is another bearish EIA storage report tomorrow, the move up could stall.
First support is near yesterday's $2.77 candlestick midpoint and the 38 percent retracement of the move up from $2.556. If the outlook is going to remain positive for at least the next few weeks then $2.77 should hold. Key support is $2.70, the 62 percent retracement. A close below this would put the market back into a cycle of testing the contract lows again.
This is a brief analysis ahead of tomorrow's EIA report. Our weekly Natural Gas Commentary is a much more detailed and thorough analysis. If you are interested, please sign up for a complimentary four week trial.