As expected, OPEC is not changing their output, or their strategy of retaining market share, because their strategy is working. Greece may default, pull-out of the European Union, strike some new deal, or do nothing, all of which could send waves through the Eurozone. The dollar is up and then down from day to day. The list could go on and on and on, but the point is that all of these are conflicting factors, most of which have already been priced into the market, and none of which give any clarification of a long-term crude oil price direction.
Prices on a chart are the reflection of what information traders have and the information that they are acting upon. When prices go up, a majority of traders, at that moment, have a reason to buy. If the information, or a series of events, are strong enough to sustain a move a trend develops. However, when prices chop around, like they have for the past few weeks, it is a result of a lack of information, or an abundance of too much inconsequential information. Right now, the market suffers from the latter. The market lacks definition and clarity, and because of this we expect more mind numbing choppiness and range bound trading until the market can get its teeth into factors that can sustain a directional move for the longer-term.
Last week, Brent failed to break the upper trendline of the downward sloping channel that it has been trading in since May 6th. From a technical standpoint, Brent looks more negative than WTI, though its move down today was marginal. Nonetheless, Brent met confluent support around $61.0 last week, and upon a close below that level we expect to see $59.9 and then $58.5.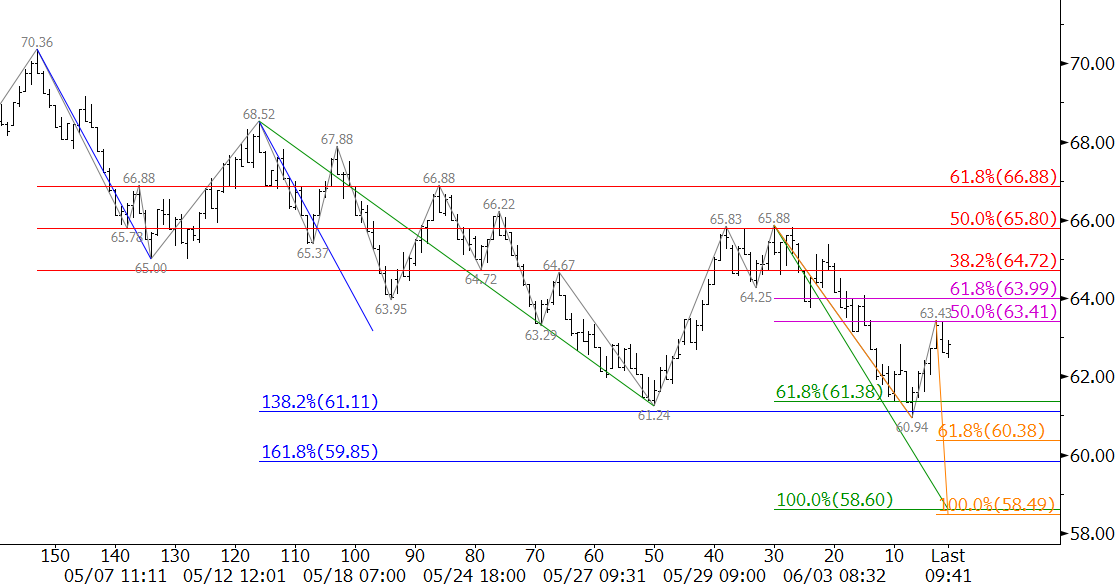 The retracement to $63.43 has held the 50 percent retracement so far, but a close over this would push prices to $64.7 and then to retest the $65.88 swing high.
This is a brief analysis and outlook for the next day or so. Our weekly Crude Oil Commentary is a much more detailed and thorough WTI and Brent crude oil price forecast. If you are interested, please sign up for a complimentary four week trial.