WTI Crude Oil Technical Analysis and Short-Term Forecast
The near-term outlook for WTI crude oil is bullish. For the past few weeks, December WTI has been stuck in a wide range between nominally $37.0 and $42.0 and formed a double bottom around $37.0. Last week, prices oscillated within a smaller range between approximately $39.4 and $41.7. This was in line with the 62 percent retracement of the decline from $44.33 and was just below the $42.02 confirmation point of the double bottom.
Today, December WTI broke higher out of this small recent range but stalled at $41.90. The break higher was bullish for the outlook though, and the move up is poised to reach $42.3 during the next couple of days. This is the most confluent objective on the chart. Setting above $42.3 will establish a bullish uptrend because this will confirm the double bottom, which targets $47.0, and also invalidate the primary wave down from $44.33 that had taken out its $37.6 smaller than (0.618) target a few weeks ago.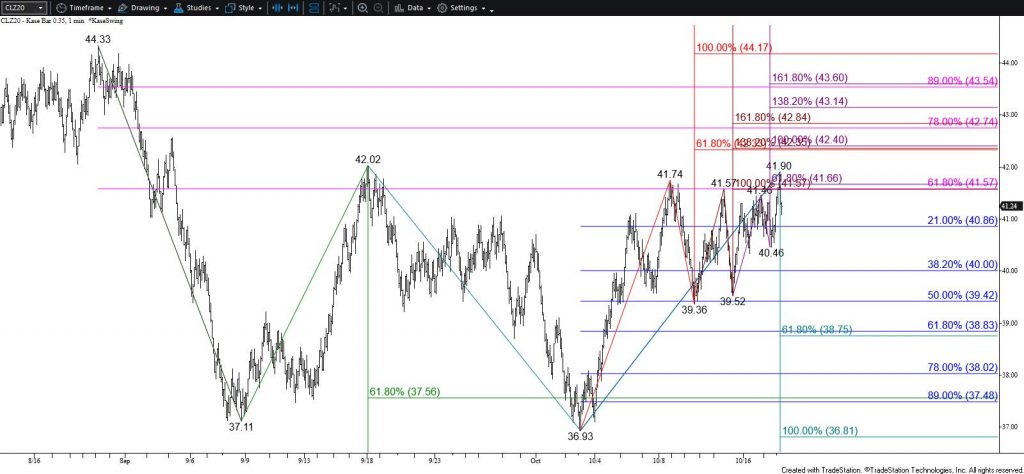 With that said, the late throwback from $41.90 back into the recent range between $39.4 and $41.7 reflects uncertainty and suggests a test of $40.5 might take place first. Falling below $40.5 will take out a few of the smaller waves that call for $42.3 and higher. This will also call for a test of $40.0. Support at $40.0 is the 38 percent retracement of the rise from $36.93 and is expected to hold. Closing below $40.0 will call for key near-term support at $39.4, a close below which will shift odds in favor of testing $38.8 and possibly lower.
Brent Crude Oil Technical Analysis and Short-Term Forecast
Brent rose a bit higher today but its move up has been more hesitant than WTI's. Nevertheless, the decline from $43.57 forms a corrective range that should break higher soon. Also, $43.3 was met, so the wave formations now call for a test of $43.8. This then connects to $44.4 and higher.
The $43.3 target was quite important for the near-term outlook, so the throwback from this objective late this afternoon is not surprising. Support at $42.2 is expected to hold and $41.4 is key for the near-term. Settling below $41.4 is doubtful but would reflect a bearish shift in external factors and call for $40.5 and possibly lower in the coming days.
This is a brief analysis for the next day or so. Our weekly Crude Oil Forecast and daily updates are much more detailed and thorough energy price forecasts that cover WTI, Brent, RBOB Gasoline, Diesel, and spreads. If you are interested in learning more, please sign up for a complimentary four-week trial.