WTI Crude Oil Price Forecast
The outlook for WTI crude oil is bullish and the move up is poised to reach $35.1. This is a crucial objective because it is the equal to (1.00) target of the primary wave up from $17.27. It is also the equal to target for today's small intra-day wave up from $33.38. Closing above $35.1 will open the way for $35.9 and then then next major objective of $37.0.
Nevertheless, the move up is due for a correction before rising much higher. Today's move to a new recovery high of $34.81 negated the bearish KaseCD divergence that was confirmed on Friday. But, Friday's hanging man is still intact. Also, the daily Stochastic is overbought and the 10-day ADX is falling, which suggests the uptrend is losing strength. Therefore, once $35.1 is met, odds for a test of support will substantially increase.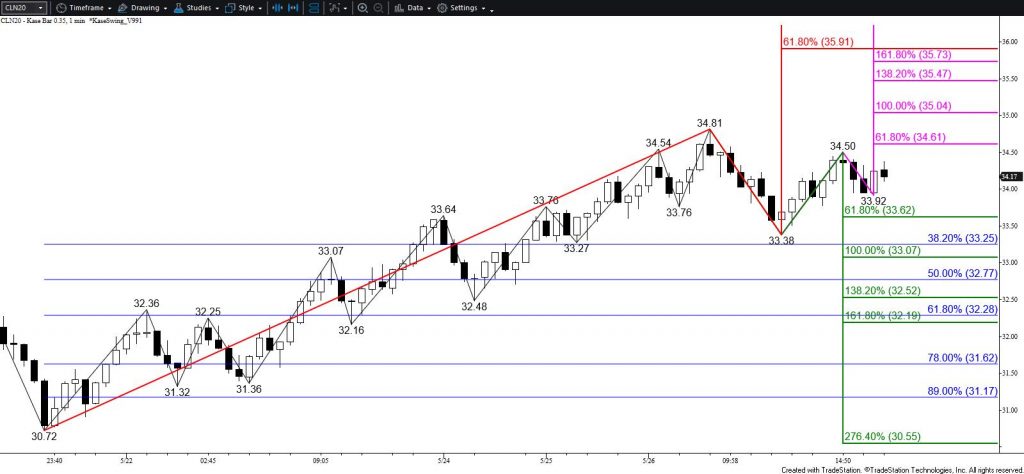 Any move down will most likely prove to be corrective, but a minimal test of support should drop prices to $31.2. This is the 21 percent retracement of the move up from $17.27 and the 89 percent retracement from $30.72. Should WTI fall below $33.6 before rising to $35.1, look for the connection to $31.2 to be made through $33.1 and $32.3.
Brent Crude Oil Price Forecast
Brent crude oil overcame its $37.17 swing high and stalled at $37.24. Nonetheless, the subsequent move down to $35.83 held the 38 percent retracement of the rise from $33.94. Also, this afternoon's move up overcame the 62 percent retracement of the decline from $37.24. Therefore, even though Brent is overdue a larger downward correction, near-term odds continue to favor higher prices.
Tomorrow, look for $37.1. A move above this will clear the way for $37.8 and then the next major objective at $38.6.
Should Brent turn lower before overcoming $37.1 again, look for initial support at $36.1. Falling below $36.1 will call for $35.6 and possibly key near-term support at $35.1. Closing below $35.1 will open the way for $34.2 and possibly a much more significant correction as anticipated.
This is a brief analysis for the next day or so. Our weekly Crude Oil Forecast and daily updates are much more detailed and thorough energy price forecasts that cover WTI, Brent, RBOB Gasoline, Diesel, and spreads. If you are interested in learning more, please sign up for a complimentary four-week trial.