July natural gas, which is now the prompt month futures contract, held $1.96 resistance and is poised to challenge at least $1.83 and likely $1.78 during the next few days. The $1.78 target is the lowest the first wave down from $2.027 projects and the equal to (1.00) target of the primary wave down from $2.027. Closing below $1.78 will call for prices to fall toward $1.70 where the continuation chart's rollover gap up from June's $1.722 settle will be filled.
The $1.70 objective is also the smaller than (0.618) target of the largest wave down from $2.364. Closing below $1.70 may be a challenge without help from bearish external factors. Also, due to the importance of $1.70 and its connection to a new 2020 continuation chart low, it is doubtful that prices fall below $1.70 without another significant test of resistance first.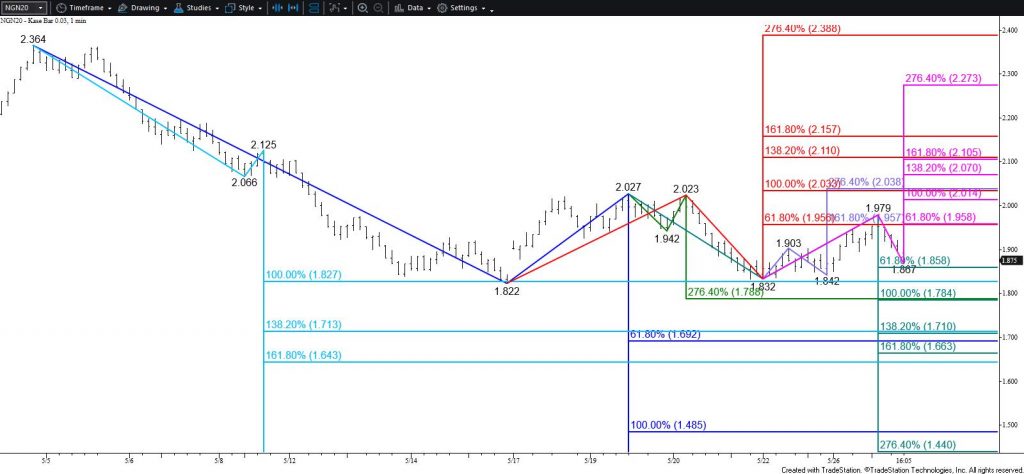 There is an immediate support target at $1.86 that may hold early tomorrow. This is the smaller than (0.618) target of the primary wave down from $2.027 and makes the connection to $1.78 and $1.70. Resistance at $1.95 is expected to hold and $2.02 is key. Settling above $2.02 would shift near-term odds in favor of $2.07 and possibly higher before another downturn.
This is a brief analysis for the next day or so. Our weekly Natural Gas Commentary and daily updates are much more detailed and thorough energy price forecasts that cover key natural gas futures contracts, calendar spreads, the UNG ETF, and several electricity contracts. If you are interested in learning more, please sign up for a complimentary four-week trial.