WTI Crude Oil Technical Analysis and Short-Term Forecast
The near-term outlook for WTI crude oil leans bullish headed into tomorrow. Today's early decline to $63.68 negated the double bottom that formed around $63.9 yesterday. However, the subsequent move up from $63.68 formed a wave that overcame its smaller than (0.618) target and is poised to reach $65.9. Such a move will overcome the 62 percent retracement of the decline from $66.76, fulfill the smaller than target of the compound wave up from $62.9, and most importantly, overcome the $65.75 intraday swing high, thus invalidating the primary wave down from $66.76. Overcoming $65.9 will also increase odds for a test of the $66.76 swing high, which then connects to a crucial target at $67.7.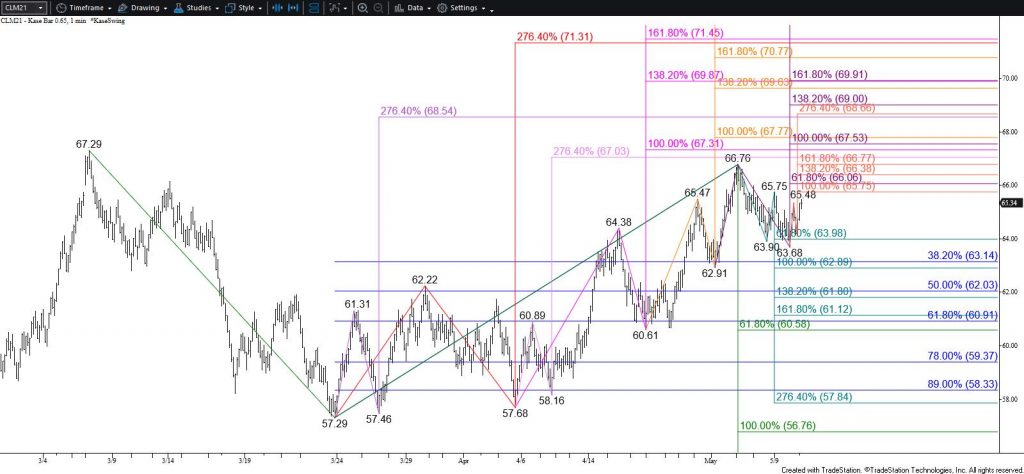 Nevertheless, the near-term call remains tight. This is because while the $65.75 swing high holds there is still a reasonable chance for the primary wave down from $66.76 to extend. This wave has already taken out its smaller than target and projects to $63.0 as the equal to (1.00) target. Therefore, should $65.75 hold, and WTI falls below $64.1 to invalidate the wave up from $63.68, look for a test of $63.0. This is also the 38 percent retracement of the rise from $57.29. A "normal" correction should hold $63.0. Closing below this would reflect a stronger bearish shift in near-term sentiment and call for a deeper test of support before the move up continues.
This is a brief analysis for the next day or so. Our weekly Crude Oil Forecast and daily updates are much more detailed and thorough energy price forecasts that cover WTI, Brent, RBOB Gasoline, Diesel, and spreads. If you are interested in learning more, please sign up for a complimentary four-week trial.