WTI Crude Oil Technical Analysis and Short-Term Forecast
WTI crude oil challenged $59.5 as called for in yesterday's daily update. The decline initially stalled at $59.45 and then rose to $61.21 before settling into a coil pattern. However, WTI broke lower out of the coil just before the settlement and has fallen to $59.38 in the post-settlement trading hours. This is significant because WTI is now trading right around the 20-day moving average. This is a level that has held on a closing basis since early November. A sustained close below the 20-day moving average will strongly imply that a significant test of support is finally underway.
Tomorrow, look for WTI to challenge $58.7. This is a bearish decision point because it is now below the 20-day moving average and is split between the larger than (1.618) target of the initial wave down from $63.81 and the smaller than (0.618) target of the newly formed primary wave down from $63.81. It is also in line with the daily bearish threshold of the Kase Trend indicator. Closing below $58.7 will call for $57.9, likely $56.9, and possibly lower during the next few days. Such a move would also be a strong indication that a major test of support is underway.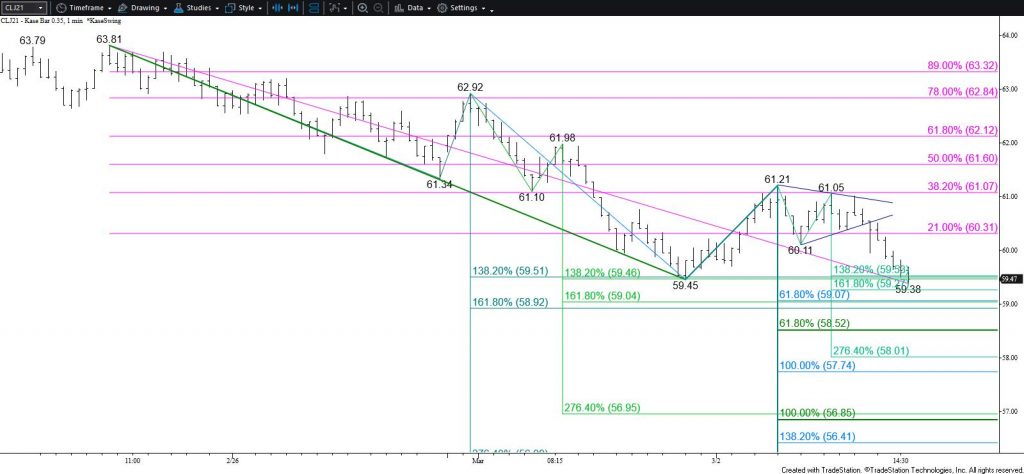 With that said, this is a week in which external factors could reinvigorate bullish sentiment. Even so, based on the way the charts and technical factors have played out during the last few days, it looks as though the market is pricing in expectations of bearish supply/demand news.
Nevertheless, should WTI crude oil rally early tomorrow look for immediate resistance at $60.3 and then crucial near-term resistance at $61.2. Rising above $61.2 will invalidate the primary wave down from $63.81 that projects to $58.7 and lower. This would also call for a test of key resistance at $62.1. Settling above this would imply that the move down has been another short-lived correction and clear the way for $62.9 likely $63.9.
This is a brief analysis for the next day or so. Our weekly Crude Oil Forecast and daily updates are much more detailed and thorough energy price forecasts that cover WTI, Brent, RBOB Gasoline, Diesel, and spreads. If you are interested in learning more, please sign up for a complimentary four-week trial.