Gold Technical Analysis and Near-Term Outlook
Gold settled below crucial near-term support at $1780. This has positioned gold to challenge the $1759 swing low again. This is a bearish decision point for the long-term because $1759 is the smaller than (0.618) target of the primary wave down from $2107.6. Based on the more recent waves, the $1759 confluence point is lowered to $1756 +/- $4. This objective is expected to be challenged tomorrow. Closing below $1756 will substantially increase odds for a decline to the primary wave's $1631 equal to (1.00) target in the coming weeks. For the near-term, a close below $1756 will clear the way for $1737, $1720, and $1695.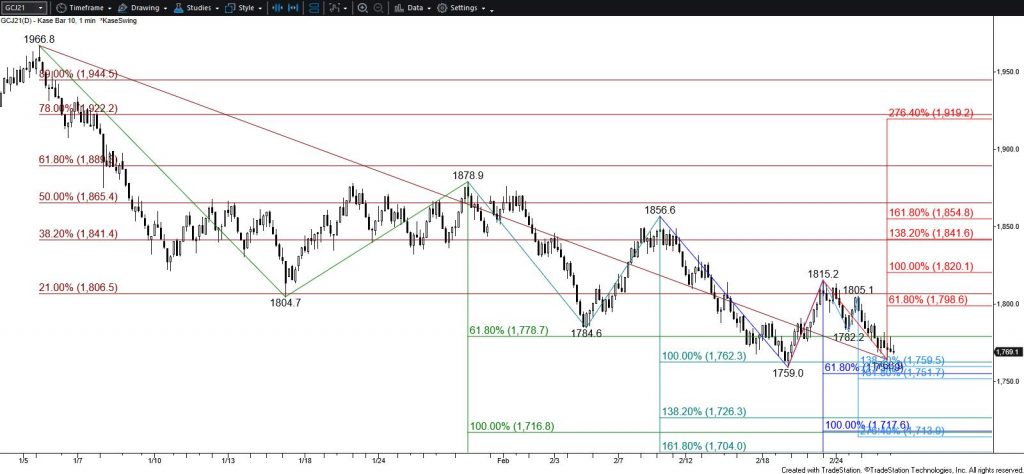 The $1756 target is the most confluent objective on the chart, so there is a modest chance that a double bottom could form around this area. There are no bullish patterns or signals that call for a double bottom to take shape, but this must be considered given the importance of the $1756 target.
With that said, should $1756 hold and gold rise above $1786 look for a test of key near-term resistance at $1799. This is currently the smaller than target of the wave up from $1759 and the 62 percent retracement of the decline from $1815.2. Closing above $1799 would call for a move toward $1820 again.
This is a brief analysis for the next day or so. Our weekly Metals Commentary and daily updates are much more detailed and thorough energy price forecasts that cover key COMEX precious metals futures contracts and LME Non-Ferrous (Base) metals, spot gold, the gold/silver ratio, and gold ETFs. If you are interested in learning more, please sign up for a complimentary four-week trial