WTI Crude Oil Technical Analysis and Short-Term Forecast
WTI crude oil rallied again today as called for in the weekly analysis and met the initial $60.8 target. A daily long-legged doji formed, but the pullback from $60.95 on the intra-day charts looks corrective. WTI is still due for a deeper test of support, but with diesel and gasoline prices looking strong again, WTI will be hard-pressed to fall. With these factors considered, near-term odds favor a continued rise and a close above $61.0 will call for a test of $61.9 and possibly $63.2 in the coming days. The $63.2 target is the next most probable stalling point because it is the larger than (1.618) target of the primary wave up from March's $27.66 contract low.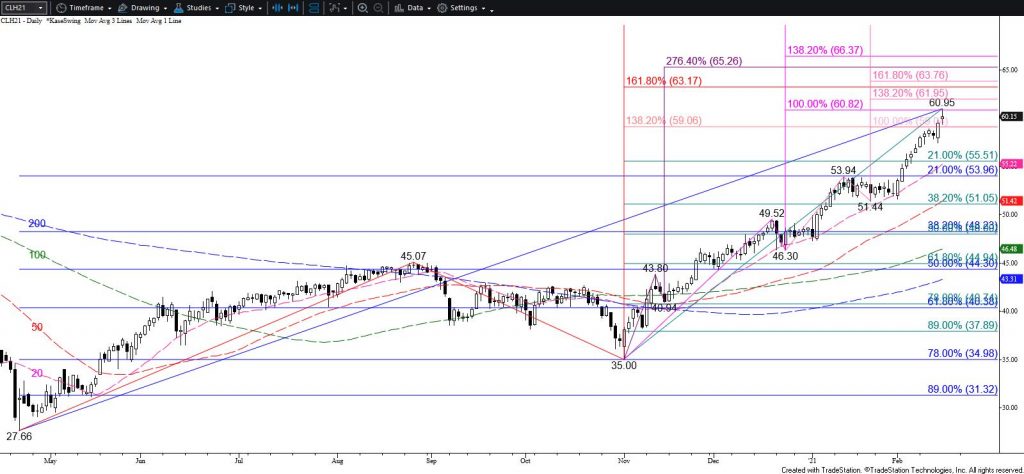 That said, weekly and daily momentum oscillators remain overbought and the $61.0 objective is an important near-term threshold because it is the equal to (1.00) target of the primary subwave up from $35.0. Should $61.0 hold and prices fall, closing below $58.7 will complete today's long-legged doji and closing below $57.9 will confirm the pattern. Such a move is doubtful during the next few days. Even so, this would be an early indication that a much more significant test of support is finally underway.
This is a brief analysis for the next day or so. Our weekly Crude Oil Forecast and daily updates are much more detailed and thorough energy price forecasts that cover WTI, Brent, RBOB Gasoline, Diesel, and spreads. If you are interested in learning more, please sign up for a complimentary four-week trial