Natural Gas Technical Analysis and Near-Term Outlook
Natural gas rose as expected again today and has nearly fulfilled a crucial target and bullish decision point at $3.34. This is the larger than (1.618) target of the primary wave up from $2.268. It is also in line with the target of a rectangle pattern that prices broke higher out of yesterday. Normally, a pullback would be expected before overcoming the larger than target of such an important wave. However, external factors are quite extraordinary right now, so it would not be surprising to see prices overcome $3.34 during the next few days.
A sustained close above $3.34 will clear the way for $3.39, $3.45, and $3.55. However, it is important to note that given continue bullish sentiment from external factors (e.g., weather), there is potential for prices to rise to $3.99 and even $4.43. It is premature to call for such a move, but these are the XC (2.764) and trend terminus of the primary wave up from $2.268, respectively.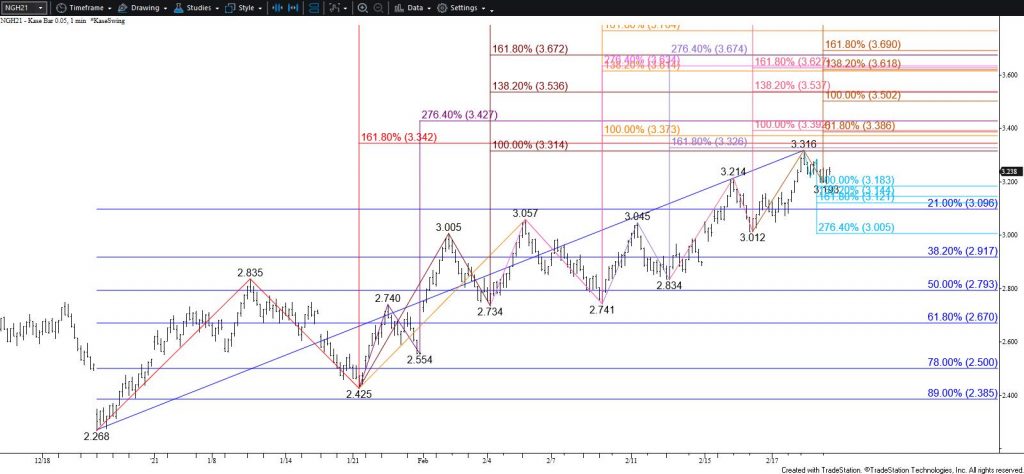 The daily RSI and Stochastic are overbought but can remain that way for an extended period during random events. Otherwise, there are no patterns or setups that call for the move up to stall other than the importance of resistance at $3.34. Even so, should natural gas take out $3.16 early tomorrow look for a test of key near-term support at $3.10. Settling below this would reflect a bearish shift in near-term sentiment and call for a test of $3.01 and possibly lower.
This is a brief analysis for the next day or so. Our weekly Natural Gas Commentary and daily updates are much more detailed and thorough energy price forecasts that cover key natural gas futures contracts, calendar spreads, the UNG ETF, and several electricity contracts. If you are interested in learning more, please sign up for a complimentary four-week trial.