WTI Crude Oil Price Forecast
It has been an unusual few days for WTI crude oil. Negative prompt month May prices on April 20 increased bearish sentiment and weighed heavily on June WTI crude oil today. There are no reversal patterns that indicate the move down has ended. There is a modest chance that today's accelerated move down will form a spike bottom. Even so, there is no technical or fundamental reason to expect a miraculous recovery in the coming days and even weeks. At a minimum, a larger test of resistance is expected before prices fall any lower.
June is now the prompt month contract and fell $6.50 before stalling. The decline took out the $11.7 and $8.1 targets mentioned briefly in yesterday's update. The $8.1 objective was the larger than (1.618) target of the primary wave down from $37.15 and held on a closing basis. This suggests that this afternoon's move up from $6.50 is a three-wave correction that will extend to at least $15.3 and likely $18.2 during the next few days. Closing above $18.2 will clear the way for $19.8 and possibly $23.0.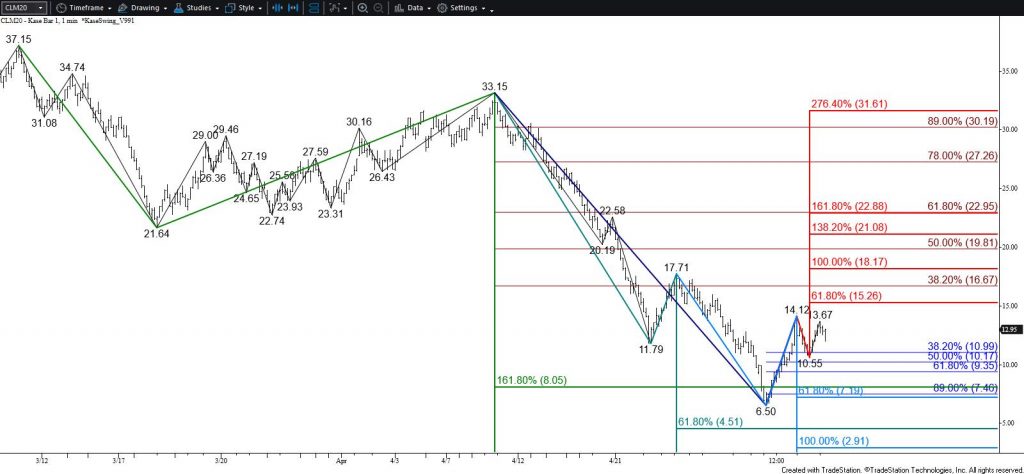 Volatility is expected to remain high for the next few days as the market sorts itself out. Expect to see violent and fast swings, initially up and then likely down. The caveat is that should a spike bottom form prices will surge higher tomorrow. Closing above $23.0 is unlikely but would suggest this is the case.
Immediate support is $11.0 and key support for the near-term is $9.4. Closing below $9.4 will call for $7.4 and then a new low of at least $4.5.
Brent Crude Oil Price Forecast
Brent fell as expected but the move down accelerated and reached a low of $17.51. The subsequent move up looks to be forming a three-wave correction that met its smaller than (0.618) target this afternoon. Therefore, near-term odds favor a test of at least $21.3 and even $23.0 tomorrow. Settling above $23.0 would clear the way for a larger correction to $23.9 and possibly $25.9.
Support at $18.3 must hold for the move up to extend to $21.3 and higher tomorrow. Falling below $21.3 would invalidate the wave up from $17.51 that projects to the higher targets. This would also open the way for $17.1 and lower.
This is a brief analysis for the next day or so. Our weekly Crude Oil Forecast and daily updates are much more detailed and thorough energy price forecasts that cover WTI, Brent, RBOB Gasoline, Diesel, and spreads. If you are interested in learning more, please sign up for a complimentary four-week trial.