As expected in the weekly Commentary, prompt month natural gas prices have been trading in an erratic manner this week. Crucial resistance at $1.95 has held on a closing basis so far, but today's move up invalidates yesterday's bearish dark cloud cover. Based on this and the waves up from $1.521, $1.555, and $1.774, natural gas should make a push for at least $1.97 and likely $2.04 before the end of the week. Closing above $2.04 will call for key upper resistance at $2.10.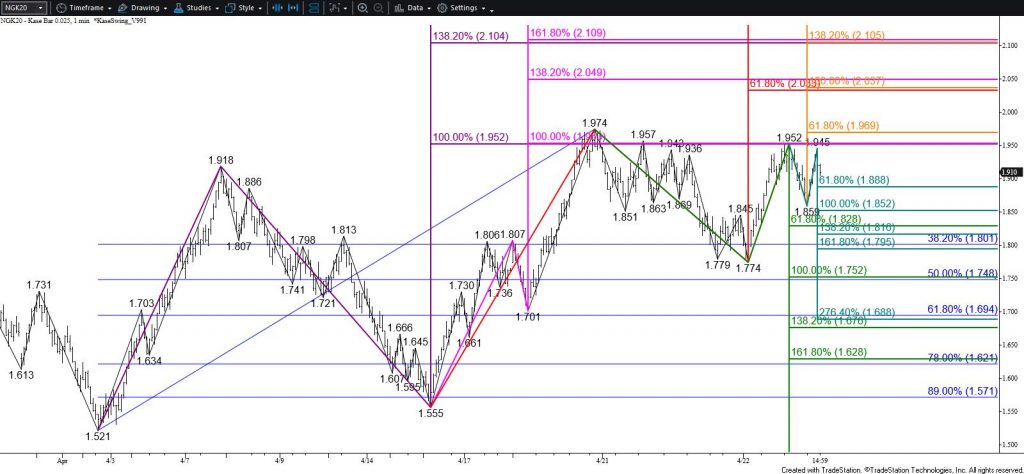 The challenge is that for the move up to be sustained fundamental data will have to reflect a strong bullish change in supply and demand. Technical factors can push prices to $2.04 and maybe $2.10, but anything higher than that, or a sustained move above $2.00, will have to be backed by bullish fundamentals. This means that there is still quite a bit of downside risk.
Should natural gas fall below $1.85 before overcoming $1.97 look for another attempt at $1.80 and possibly $1.75. The $1.75 level is the 62 percent retracement of the move up from $1.521. Therefore, a close below $1.75 would shift odds in favor of $1.68 and then a move back toward the $1.555 and $1.521 swing lows.
With all factors considered, natural gas prices should rise a bit higher during the next few days. But the move up will probably be short-lived and another major test of support is likely without help from external factors. Therefore, for the bigger picture, the most probable scenario is a wide trading range, the boundaries of which are still be defined.
This is a brief analysis for the next day or so. Our weekly Natural Gas Commentary and daily updates are much more detailed and thorough energy price forecasts that cover key natural gas futures contracts, calendar spreads, the UNG ETF, and several electricity contracts. If you are interested in learning more, please sign up for a complimentary four-week trial.