Declines in U.S. crude oil and gasoline inventories, a weaker U.S. dollar, and recent indications that OPEC and other major producers could take measures to stabilize prices are reportedly catalysts for last week's near eight percent gain. However, some pundits believe the recent rally may keep the market oversupplied as higher prices could encourage more drilling. This point was emphasized by rig counts increasing by 10 last week to the highest level since February.
From a technical perspective, October WTI settled above key resistance levels at $48.0 and $48.7 late last week. The move up is poised to continue above $50.0, but is in desperate need of a correction. The Stochastic has been overbought, and on Friday, an evening star setup formed.
On Monday, the correction WTI has been waiting for began. Friday's evening star was confirmed on Monday when October settled below $47.58. The Stochastic's %K line is falling below the %D line, which is also negative. These factors indicate a deeper correction to at least $46.6 and possibly $45.8 should take place this week. The move down will likely be choppy and corrective, but should extend at least a bit more before the move up continues.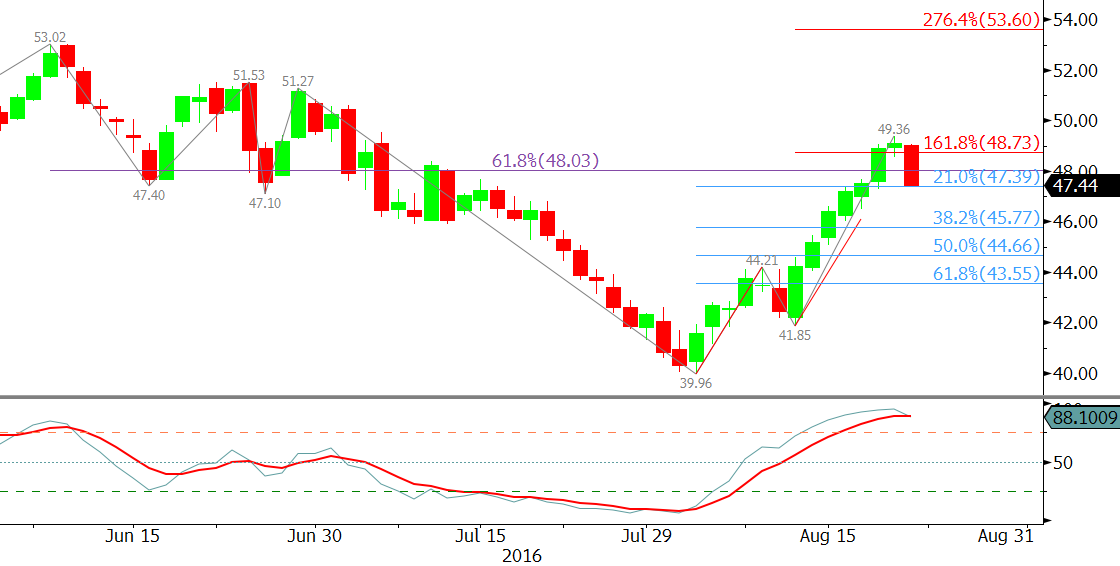 The key support level is $45.8. This is because $45.8 is the 38 percent retracement of the move up from $39.96. A normal correction should hold $45.8. A close below this would call for an extended correction toward the 50 and 62 percent retracements.
Look for initial resistance at $48.3 and $49.0. These are near Monday's midpoint and open. The $48.3 level will probably be tested in early trading, but should hold. A close over $49.0 would indicate the correction is complete. This would in turn open the way for $50.1 and higher.
This is a brief analysis and outlook for the next day or so. Our weekly Crude Oil Commentary and intraweek updates are a much more detailed and thorough energy price forecast. If you are interested in learning more, please sign up for a complimentary four-week trial.