Natural Gas Technical Analysis and Near-Term Outlook
The long-term outlook for natural gas is bearish. However, the move down is struggling to definitively take out major support around $2.52. Monday's close below $2.52 was negative and implies that prices will eventually fall to $2.39 and possibly $2.30.
Nevertheless, $2.52 has been held on a closing basis for the past two days, and the newly formed wave up from $2.478 met its $2.54 smaller than (0.618) target this afternoon. Therefore, it looks as though natural gas will try to rise to $2.59 first. This will fill Monday's gap down, fulfill the equal to (1.00) target of the wave up from $2.478, and test the 21 percent retracement of the decline from $3.06.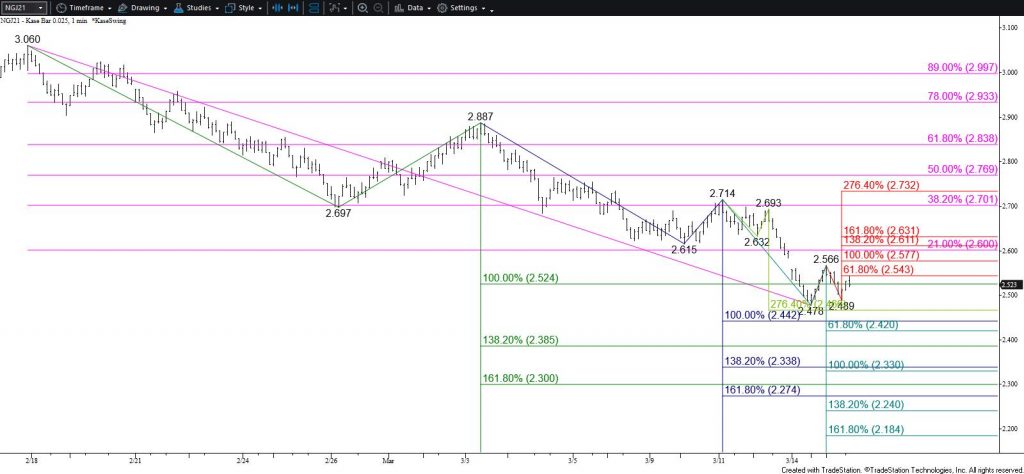 Closing above $2.59 is unlikely but would call for $2.63 and possibly $2.70. The $2.70 level is most important because it is the 38 percent retracement of the decline from $3.06 and the 200-day moving average. Settling above $2.70 is highly doubtful without a surprise bullish shift in external factors (e.g., weather, storage, etc.).
Once $2.59 is met another test of support is anticipated. Moreover, a close below $2.49 before or after $2.59 is challenged will clear the way for $2.44 and then the next major thresholds at $2.39 and $2.30.
This is a brief analysis for the next day or so. Our weekly Natural Gas Commentary and daily updates are much more detailed and thorough energy price forecasts that cover key natural gas futures contracts, calendar spreads, the UNG ETF, and several electricity contracts. If you are interested in learning more, please sign up for a complimentary four-week trial.