By Dean Rogers
For most of 2015 natural gas has traded within a range between $2.65 and $2.95, and within the past week prices have tested both the upper and lower boundaries of the range. After failing to overcome $2.95 and stalling at $2.934 on August 12, prices declined to $2.68 on August 18, a confluent target for the waves down from $2.957 and $2.934.
Technical and fundamental factors favor a continued decline below the $2.65 boundary of the range to at least $2.60. This is another confluent target and a close below $2.60 would confirm the break lower out of the trading range.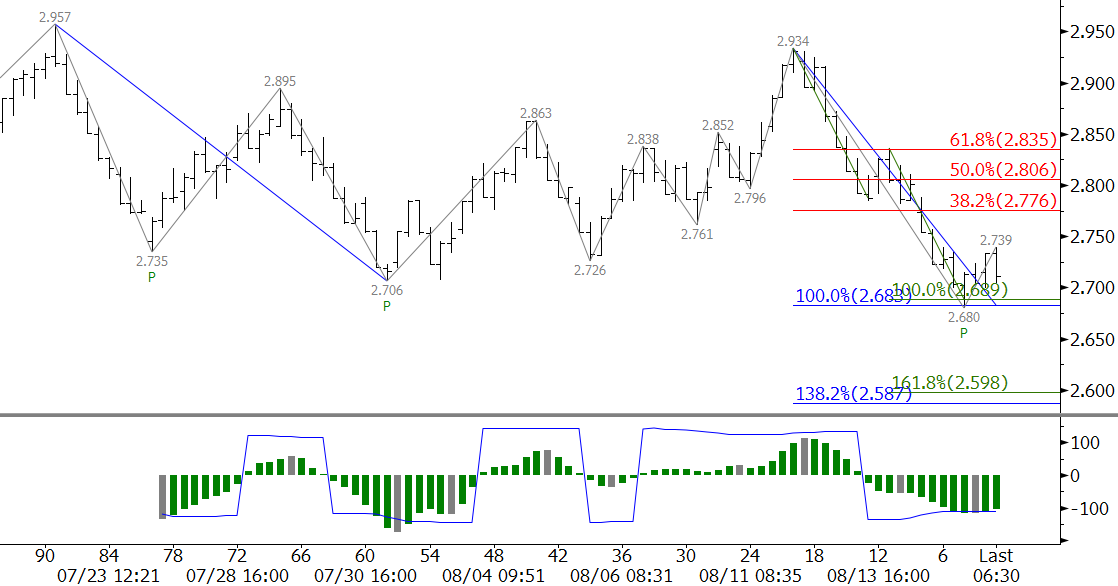 Wednesday's bullish Harami land and star setup indicates that the upward correction from $2.68 might extend to $2.776 and possibly $2.834 first. These are the 38 and 62 percent retracement of the move down from $2.934. Resistance at $2.776 should hold, but $2.834 is the threshold for another attempt to overcome $2.95.
Overall, the bias is negative. The move down may be a grind lower for now, but time is running short for summer weather to continue to support prices above $2.65. Last week's push to $2.934 may have been the last hurrah, and the move down is now poised to continue.
This is a brief natural gas forecast ahead of tomorrow's EIA report. Our weekly Natural Gas Commentary is a much more detailed and thorough analysis. If you are interested in learning more, please sign up for a complimentary four week trial.