By Dean Rogers
Natural gas is finally showing some signs of life as 2015 comes to a close. Reports that colder than normal temperatures along the East Coast and in the Great Lakes region for the first week of January have sparked a much needed relief rally from recent 16-year lows.
February natural gas, which will become the prompt futures contract on January 30, rallied to $2.061 on Wednesday and settled at $2.036. This was above the December 14 gap down from $2.022. Confluent technical resistance was met at $2.061, a crucial wave projection that connects to $2.13, $2.22, and $2.27. The wave $1.802 – 2.011 – 1.933 that met its 0.618 projection at $2.061, the close over the $2.022 gap, the break higher out of an intraday bullish descending triangle, and KaseX's pierced dart signal (green arrow, bullish divergence, and yellow triangle, first buy signal) indicate the move up should extend to at least $2.08 and very likely $2.13 over the next few trading days.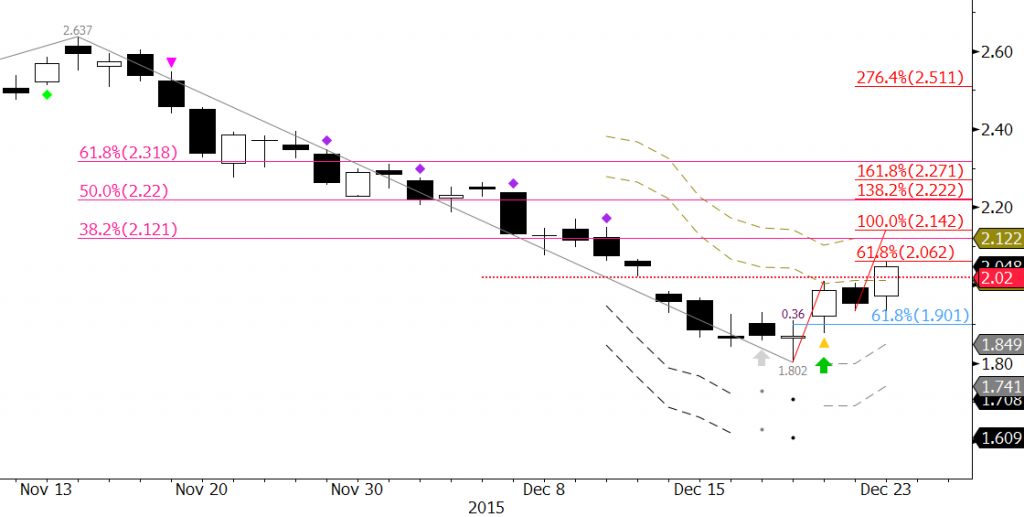 There is little doubt that the move up is corrective of the longer-term decline, and it is too soon to definitively state that a long-term bottom has been made. Tomorrow's EIA Weekly Natural Gas Storage Report could make or break the rally in the short-run. Lighter trade volume around the holidays is also a concern that could lead to the rally being short-lived. However, if temperatures do turn colder than normal in key areas of the U.S. as anticipated in coming weeks, bullish sentiment alone could support prices above $1.90 for the interim.
Wednesday's $2.00 midpoint is first support, and will likely be tested on Thursday. If the move up is going to continue it should hold $1.96 and has to hold $1.90. The $1.96 threshold is near Wednesday's open and the 38 percent retracement of the move up from $1.802 to $2.061. A move below $1.96 would not only call for the $1.933 swing lows to be taken out, but more importantly for a test of the 62 percent retracement at $1.90. A close below $1.90 would indicate the rally is over and that another test of recent lows is right around the corner.
This is a brief natural gas forecast for the next day or so. Our weekly Natural Gas Commentary is a much more detailed and thorough analysis. If you are interested in learning more, please sign up for a complimentary four-week trial.