During the calendar month of March the April natural gas futures contract has traded in a range bound between $2.64 and $2.87. Most fundamental and technical factors are still negative for the long-term. The move up at this point is still corrective and will only delay the inevitable decline that is ultimately coming. However, late winter weather concerns continue to support the market and have rattled the nerves of traders enough over the past two days to push natural prices above $2.87 to challenge key resistance at $2.89 ahead of tomorrow's U.S. Energy Information Administration (EIA) Natural Gas Weekly Update.
The market is hinting that a bullish EIA update may be expected, but if the number is disappointing, this natural gas price rise will collapse in upon itself and could be the catalyst the finally push prices lower to challenge key support targets.
The wave formations up from $2.589 (not shown), $2.641, $2.662, and $2.674 all show that $2.89 is a confluent wave projection. It is also the 62 percent retracement from $3.045 to $2.641. The confluence of wave projections and retracements at $2.89 make it the key decision point for an extended correction to at least $3.00 and possibly $3.07. At the time of this analysis, natural gas prices are trading right at $2.89, but they will need to settle above this to open the way for $3.00 in early trading tomorrow before the EIA update is released. Unless the EIA report is extremely bullish, it is doubtful that prices will settle above $3.07 in coming days.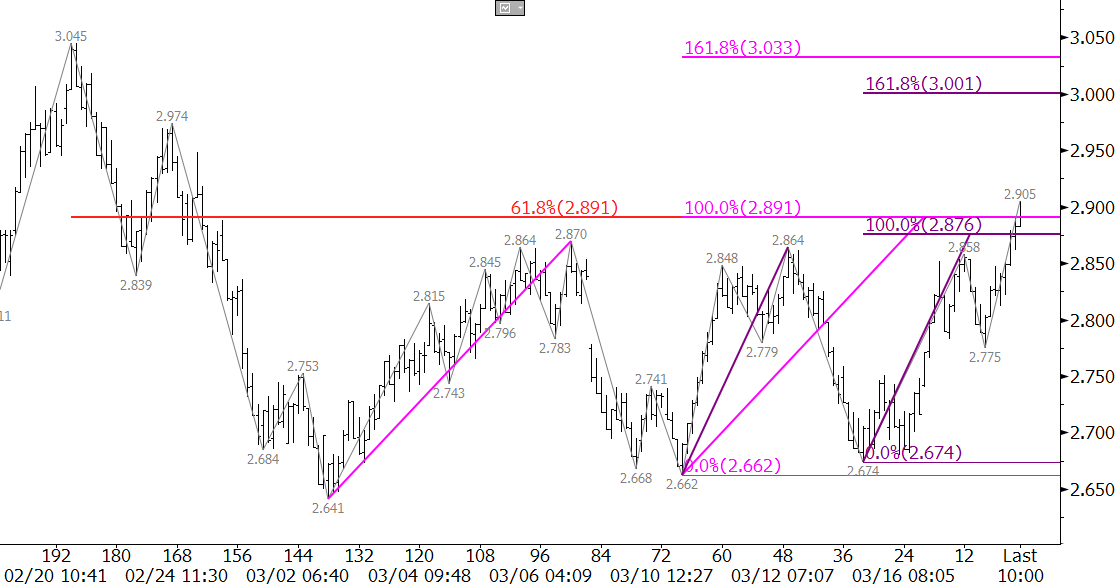 Look for support at $2.78. This is in line with the $2.775 swing low, the midpoint of the recent range between $2.64 and $2.87, and the midpoint of the March 12 and 17 candlesticks. A close below $2.78 would indicate the move up has failed to extend once again.
Take a trial of Kase's in-depth weekly energy price forecasts.