Markets are rarely more balanced that what we have experienced for natural gas over the past few weeks. After August failed to overcome $2.95 it stalled at $2.73, and is now in a mini-range between $2.73 and $2.87. Considering this week marked the end of the month and quarter, and is shortened due to the 4th of July holiday, a breakout will likely be delayed until next week.
The market is waiting for factors like summer weather and/or supply/demand issues to give us a breaking. The longer it delays the move up though, the more prices will erode away until it is too late to make a meaningful push higher.
It is still a bit early for the market to give up on a summer rally, but based on many technical factors we favor a break lower out of the mini-range between $2.73 and $2.87. This morning's failed attempt to overcome $2.87, bearish KaseCD divergence and first short signal confirm our call. This would open the way for a confluent $2.64 target.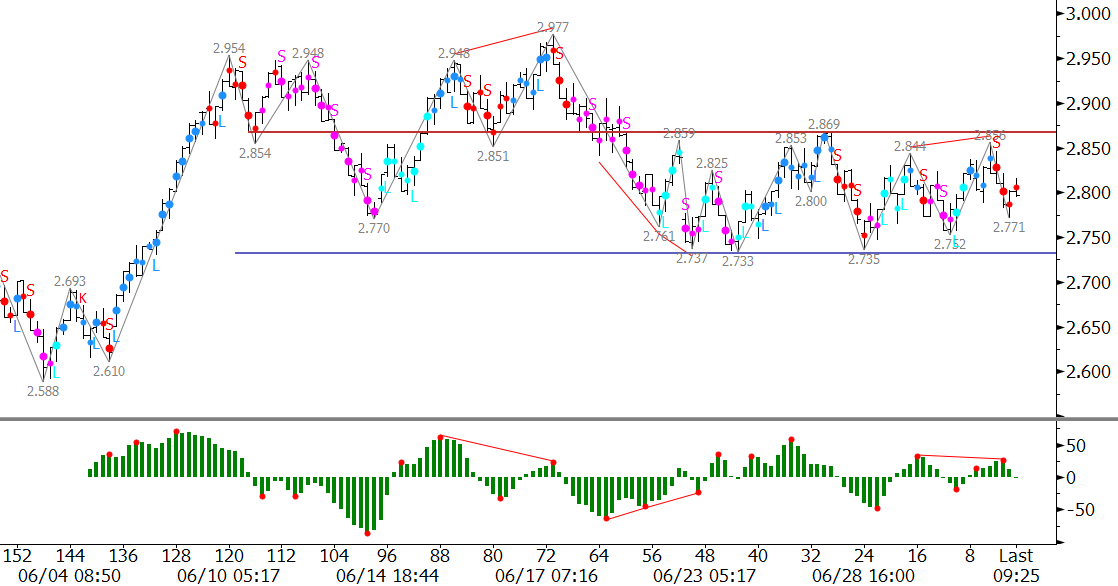 Should prices close over $2.87 look for another test of $2.95, which is the key threshold for a push to levels above $3.00 and a summer rally.
This is a brief natural gas forecast ahead of tomorrow's EIA report. Our weekly Natural Gas Commentary is a much more detailed and thorough analysis. If you are interested, please sign up for a complimentary four week trial.