From day-to-day natural gas prices are oscillating back and forth on short term speculation and headlines. At one moment we read that the weather forecast is cooler than normal for the next few weeks and then a headline says the forecast is normal. In addition, rig counts are down, but the rate at which they are declining is leveling off. Storage levels are high, and government data shows that production is on pace to increase by five percent this year. The point is that it is hard to get a handle on the fundamental factors right now, and that is fairly typical for this time of year in the shoulder months between the break of the winter heating season and summer cooling demand. However, during this time the technical analysis factors can tell us a lot about how events may unfold, especially for the near term.
The natural gas forecast looks weak ahead of tomorrow's U.S. Energy Information Administration (EIA) Natural Gas Weekly Update. Prices are falling again after last Thursday's four percent gain ahead of the long weekend. Thursday's move formed a daily bullish and engulfing line, weekly bullish piercing pattern, and confirmed a daily divergence on the KasePO. However, the inability to follow through this week, and the potential for a close below Thursday's $2.657 midpoint today, does not bode well for an extended upward correction before new contract lows are made.
As it stands, the wave formation down from $2.949 calls for $2.49 once natural gas prices close below the $2.56 target. A close below $2.56 and decline to $2.49 and lower is the most likely scenario that will unfold, unless there is another bullish shock from this week's EIA report.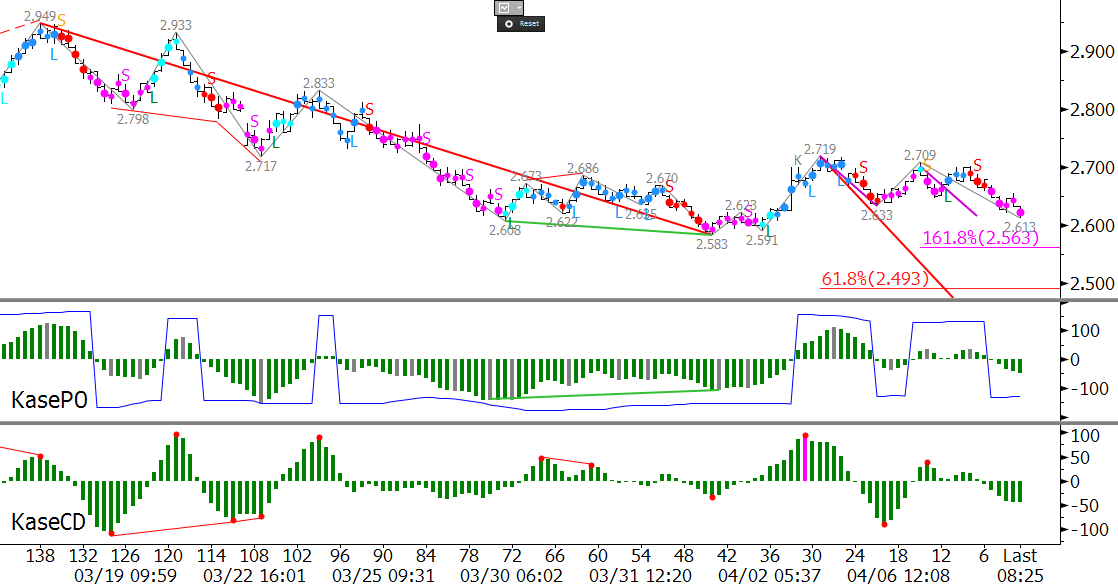 Overall, most factors for the short term are negative. Momentum on the KasePO is declining, and a new swing low below $2.583 would negate the bullish divergence. The KaseCD is also declining, but is setup for a mini-divergence between the $2.633 and $2.613 swing lows, so caution is warranted. The KEES indicator is showing strong first class short permissions (magenta dots) on the 240-minute Kase Bar chart, and a short trade was triggered this morning when the red S formed.
A close below last Thursday's $2.657 midpoint would certainly increase the odds of a decline to $2.56 tomorrow. However, a move back above this at the end of the day today would increase the uncertainty of a continued decline and could open the way for $2.72 to be challenged again. This is the key resistance level for the near term, and a move above this would call for an extended correction. This is a less likely scenario, but is not unlikely.
To conclude, the market knows what its support and resistance levels are and the near term direction will be decided by a close beyond these levels. A close below $2.56 will call for at least $2.49. Conversely, a move back above $2.657 would call for another test of major resistance at $2.72.
Learn more about Kase's energy forecasting, trading indicators, and hedging solutions.