Natural Gas Near-Term Outlook
Natural gas confirmed an intra-day head and shoulders reversal pattern by settling below $2.50 today. The pattern's target is $2.26, which is also in line with the larger than (1.618) target of the primary wave down from $2.743. The connection to $2.26 is made through $2.42 and $2.34. The $2.34 objective is crucial because this is the most confluent target on the chart and is the 38 percent retracement of the rise from $1.700.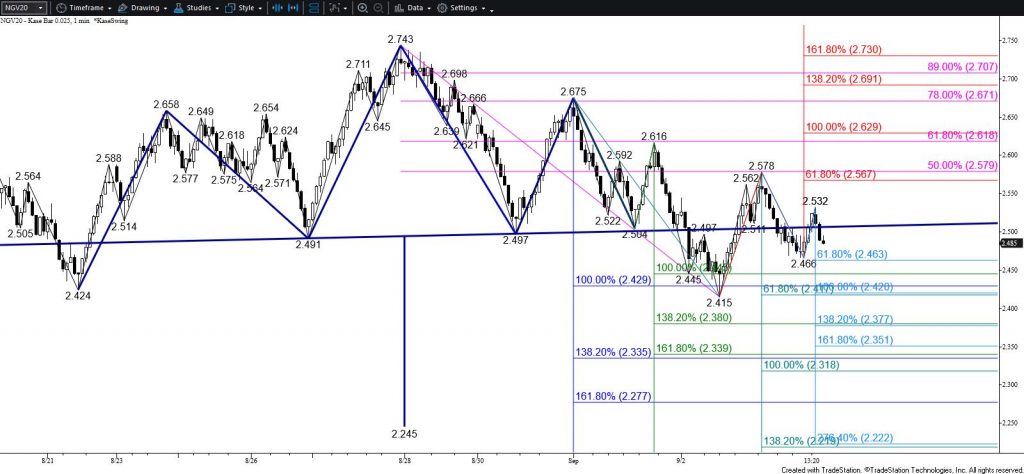 For the five-wave move up from $1.700 to have any chance at extending again and reaching its $2.81 objective $2.34 must hold. At this point, holding $2.34 for more than a day or two is doubtful. It now looks as though the five-wave trend has ended and that a large three-wave correction is underway. Settling below $2.34 will confirm this.
The move down has been somewhat choppy for the past few days. This suggests the decline is corrective. Even so, resistance at $2.57 is expected to hold as the move down extends. Key near-term resistance is $2.63. This is the 62 percent retracement of the decline from $2.743, a close above which would call for a test of $2.68 and then $2.73. Settling above $2.73 would clear the way for a push to challenge $2.81.
This is a brief analysis for the next day or so. Our weekly Natural Gas Commentary and daily updates are much more detailed and thorough energy price forecasts that cover key natural gas futures contracts, calendar spreads, the UNG ETF, and several electricity contracts. If you are interested in learning more, please sign up for a complimentary four-week trial.