By Dean Rogers
On Friday evening I sat down to write Kase's detailed weekly forecasts on WTI crude oil and Brent with an image of Chicken Little running around warning all of his pals that the sky is falling. This is a feeling that resonated with many market participants around the world as stock indices and commodities have plunged lower.
The reality is WTI and Brent will find a bottom soon, and there are logical/technical points at which these bottoms could form. From a technical standpoint, WTI crude oil is already well oversold and due for a correction. There are daily and weekly divergence setups on many momentum indicators, including our own KaseCD and KasePO, but this has been the case for weeks. Therefore, until a significant retracement takes place, reversal patterns form, and the daily and weekly momentum divergences are confirmed, the outlook will remain negative.
WTI met major support at $37.9 when it fell to $37.75 early Monday and settled at $38.24. Given today's price action though, it looks as though the decline is going to continue to extend. WTI pulled back to $39.5 where an intraday double top formed, and the pattern was confirmed when prices fell below $38.3. The projection for the double top is $37.1. Look for at least $37.52, the 1.618 projection of the wave down from $39.5, and then $37.1 tomorrow.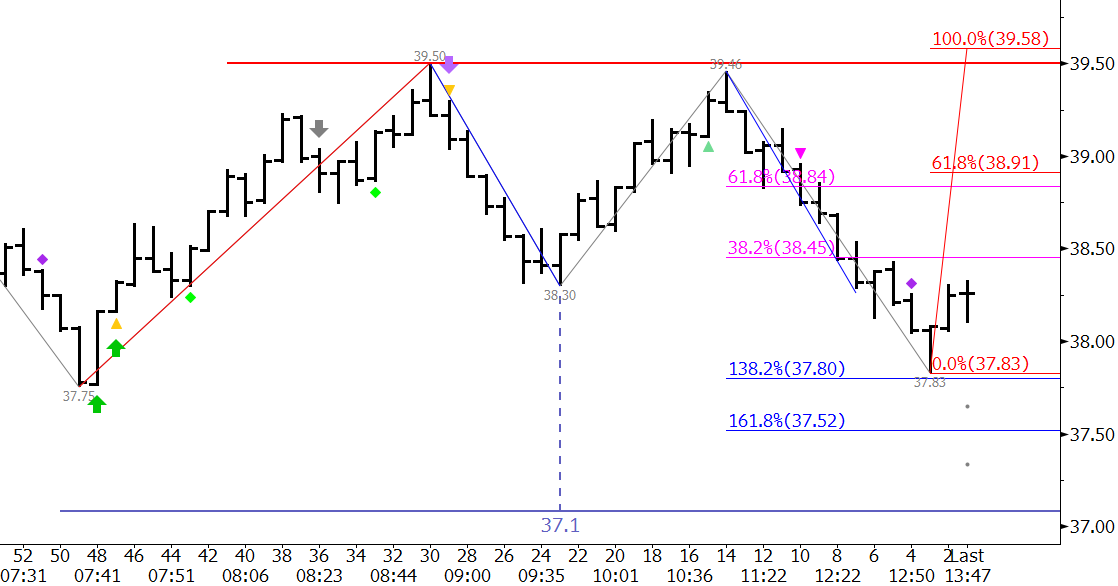 The small pullback from $37.83 may extend to $38.45 and even $38.88 first. The 38 percent retracement of the decline from $39.46 to $37.83 is $38.45 and the 62 percent retracement is $38.88. The latter is also the 0.618 projection of the wave up from $37.75 and is expected to hold. A close over this would call for an extended upward correction.
This is a brief analysis and outlook for the near-term. Our weekly Crude Oil Commentary is a much more detailed and thorough energy price forecast. If you are interested, please sign up for a complimentary four week trial.