WTI Crude Oil Technical Analysis and Short-Term Forecast
The outlook for WTI crude oil is firmly bullish and the move up is poised to challenge crucial resistance at $42.0. This is a highly confluent wave projection, retracement, and swing high. Overcoming $42.0 will invalidate the primary wave down from $44.33 that had called for $32.0 and lower during the past few weeks. Rising above $42.0 will also confirm a long-term bullish reversal is unfolding, clearing the way for $42.8 and likely $44.9.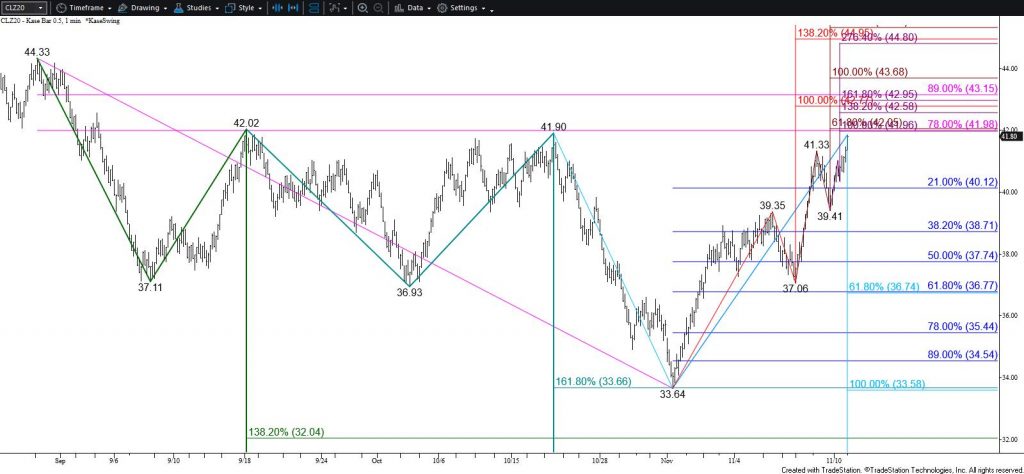 Nevertheless, when the outlook for WTI has been most positive in recent months the move up has stalled near $42.0 and turned lower to challenge support again. There is no evidence that this will be the case again, but caution is warranted.
Should WTI take out $40.8 before overcoming $42.0 look for a test of $40.0. Support at $40.0 is expected to hold. Key support is $38.8. This is the 62 percent retracement of the rise from $37.06 and the 38 percent retracement from $33.64. Closing below $38.8 would imply that another major test of support is underway before the move up attempts to overcome $42.0 again.
Brent Crude Oil Technical Analysis and Short-Term Forecast
The outlook for Brent is quite bullish after settling above the smaller than (0.618) target of the primary wave up from $36.40 and the 62 percent retracement of the decline from $47.31. This afternoon's post-settlement rally has overcome the $43.99 swing high and the move up is now poised to test $44.6. This is the last level protecting the $44.67 swing high. Closing above this will clear the way for $45.3 and likely $46.4 during the next few days.
Initial support is $43.1, a move below which will call for $42.4. Support at $42.4 is expected to hold. Key support and the barrier to a bearish near-term outlook is $41.2. Settling below this would shift near-term odds in favor of testing $39.9 and possibly lower before the move up continues.
This is a brief analysis for the next day or so. Our weekly Crude Oil Forecast and daily updates are much more detailed and thorough energy price forecasts that cover WTI, Brent, RBOB Gasoline, Diesel, and spreads. If you are interested in learning more, please sign up for a complimentary four-week trial.