WTI Crude Oil Price Forecast
WTI rallied today but stalled short of the crucial $26.3 objective. The long-term outlook for WTI is bullish, but the move up is still due a larger test of support before rising much higher. In addition, with product prices sliding and a negative near-term outlook for Brent, WTI will be hard-pressed to retain enough upward momentum to overcome $26.3. Therefore, tomorrow's outlook leans bearish and a test of support is expected.
The move down from $26.23 will most likely prove to be corrective. Nevertheless, a bearish intra-day KasePO divergence and the wave down from $26.23 call for a test of $25.0 and likely $24.2 tomorrow. For the move up to extend toward $26.3 and higher again during the next few days $24.2 must hold. Closing below this will call for $22.5 and possibly $21.0.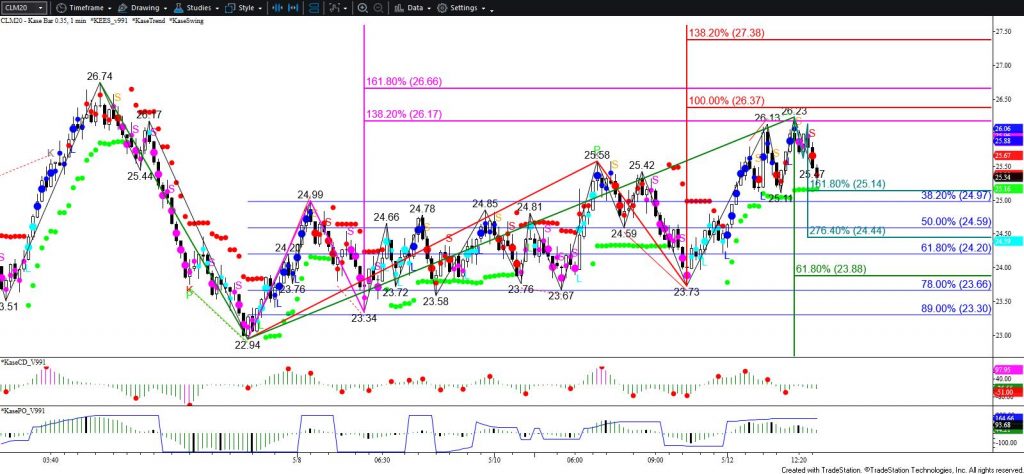 Should WTI rally again and overcome $26.3 early tomorrow, look for prices to push for $27.3, $28.4, and eventually the next major objective of $29.1.
Brent Crude Oil Price Forecast
Not much changed for Brent today. The overall outlook is bullish, but Brent broke lower out of a coil yesterday and the wave formation down from $32.27 calls for a test of $28.7 and possibly $27.7 before the move up continues. The $27.7 objective is expected to hold. Nevertheless, a close below this would call for $26.8 and possibly $26.1.
Once $28.7 is met, odds for another test of resistance will increase. Rising above $30.8 will clear the way for $31.5 and then key near-term resistance at $32.1. Settling above $32.1 will put odds firmly back in favor of a continued rise toward the next major objective at $33.4.
This is a brief analysis for the next day or so. Our weekly Crude Oil Forecast and daily updates are much more detailed and thorough energy price forecasts that cover WTI, Brent, RBOB Gasoline, Diesel, and spreads. If you are interested in learning more, please sign up for a complimentary four-week trial