WTI Crude Oil Technical Analysis and Short-Term Forecast
The near-term outlook for WTI remains bearish. Originally, it looked as though the move down from $67.79 was unfolding as a five-wave pattern that targets $54.9 or, more likely, $53.7. However, Waves I and III lack clear five-subwave counts. This does not negate the possibility of a five-wave move, but it does imply that the decline might be a three-wave extension that targets $52.5 instead. Nonetheless, in either case, the wave count, whether five- or three-waves, calls for the decline to continue toward targets in the low $50s.
As a five-wave move, $57.0 is crucial because this is the smaller than (0.618) target of Wave III and connects to $53.7 as the equal to (1.00) target. The $53.7 objective is also the XC (2.764) target of Wave I and the lowest that this wave projects. The trend terminus for Wave I is $54.9, but $53.7 makes more sense for the five-wave move because falling to $53.7 would makes Waves III and V equal. This also means that $53.7 would be the most probable stalling point for a five-wave pattern. Therefore, once $53.7 is met, a three-wave correction, or more, would be expected.
As a three-wave extension, the decline from $67.79 targets $56.3 as the smaller than target and then connects to $52.5 as the equal to target. Therefore, a three-wave extension is a bit more bearish for the near-term outlook than a five-wave pattern.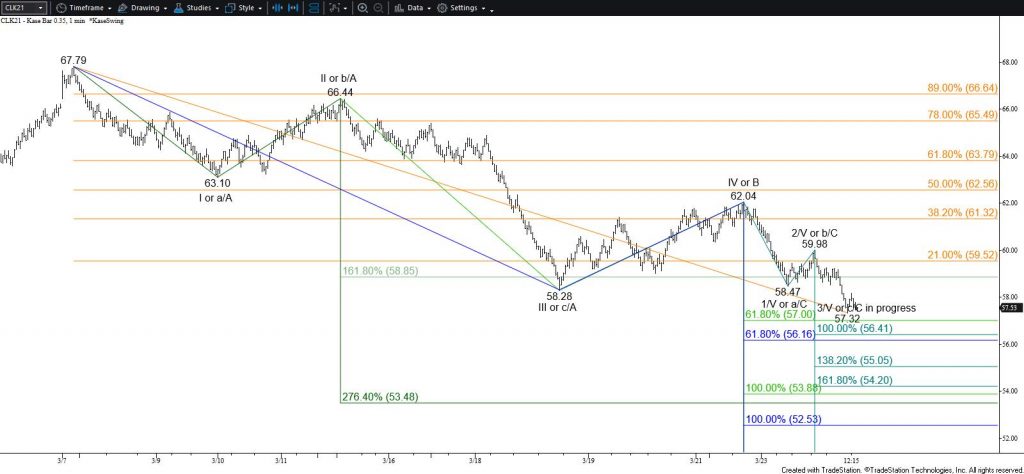 Tomorrow's early action should shed more light on the wave count. Currently, it looks like the decline is more likely a three-wave extension because the subwave down from $62.04 has taken out its smaller than target and calls for a test of its $56.3 equal to target. However, should $57.0 hold and a decent retracement takes place (along the lines of $1.50 to match the retracement from $58.47 to $59.98), the decline is probably a five-wave trend. Again, either way, there is a good chance for WTI to fall and fulfill targets in the low $50s in the coming days.
Regarding near-term resistance, look for $58.4 to likely hold. Key near-term resistance is today's $59.5 midpoint. Settling above this will dampen near-term odds for a continued decline and call for a test of $60.2 and possibly today's $61.3 open before the decline continues.
This is a brief analysis for the next day or so. Our weekly Crude Oil Forecast and daily updates are much more detailed and thorough energy price forecasts that cover WTI, Brent, RBOB Gasoline, Diesel, and spreads. If you are interested in learning more, please sign up for a complimentary four-week trial.