WTI Crude Oil Price Forecast
The long-term outlook for WTI crude oil is bullish. However, WTI continues to trade in a very erratic and indecisive manner in the near-term. The move up looks exhausted and some technical patterns and signals suggest a sizable test of support should take place before the move up continues. However, as prices have risen to new highs prior swing lows have held. This is the most basic definition of an uptrend. Also, the 21-day moving average continues to hold on a closing basis.
Realistically, the near-term outlook for WTI is neutral. Even so, today's decline shifts odds nominally in favor of a test of $40.5 and possibly $39.9 tomorrow. These are the smaller than (0.618) and equal to (1.00) targets of the compound wave down from $42.51, respectively. Closing below $40.5 will also take out the 21-day moving average and a close below $39.9 will take out the last swing low of $39.97. This will also increase odds for a deeper correction to $39.2 and possibly $38.6 during the next few days.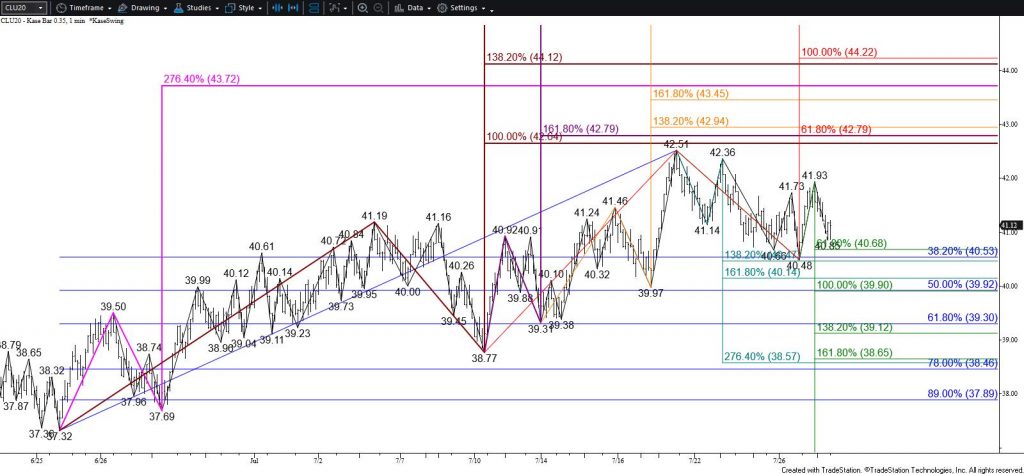 Conversely, each time WTI has looked as though it will break lower prices have turned higher and risen to a modest new high shortly thereafter. Therefore, caution is warranted. Resistance at $41.9 is expected to hold. A move above this would invalidate the wave down from $42.51 that projects to $40.5 and lower. This would also call for WTI to rise to a new high of at least $42.8 before another major test of support takes place.
Brent Crude Oil Price Forecast
Brent's near-term outlook leans neutral-to-negative and the move down is poised to challenge at least $43.0. Closing below this will call for $42.1 and possibly lower.
Nevertheless, the 21-day moving average held again today and the move down has been extremely choppy. Therefore, the decline is most likely corrective. Should Brent overcome the $44.34 intra-day swing high look for the move up to extend to $45.3 before another significant test of support takes place.
This is a brief analysis for the next day or so. Our weekly Crude Oil Forecast and daily updates are much more detailed and thorough energy price forecasts that cover WTI, Brent, RBOB Gasoline, Diesel, and spreads. If you are interested in learning more, please sign up for a complimentary four-week trial.