WTI Crude Oil Price Forecast
Today's move up was bullish for the outlook of WTI crude oil. The August contract settled above $41.2 and September closed above $41.5. This finally confirmed a break higher out of a weeks-long narrowing trading range and clears the way for the next leg of the move up toward at least $42.6, likely $43.5, and possibly $44.3 during the next few days.
The $42.6 objective is the equal to (1.00) target of the primary wave up from $37.32. Today's move up stalled just below $42.6, so settling above this will clear the way for $43.5. This is a moderately confluent wave projection and, most importantly, is in line with the 200-day moving average on the continuation chart. Therefore, $43.5 may be a stalling point.
Nonetheless, based on September's wave formation, once September WTI settles above $42.6 there is a good chance for $44.3. This is the intermediate (1.382) target and is also in line with September's 200-day moving average.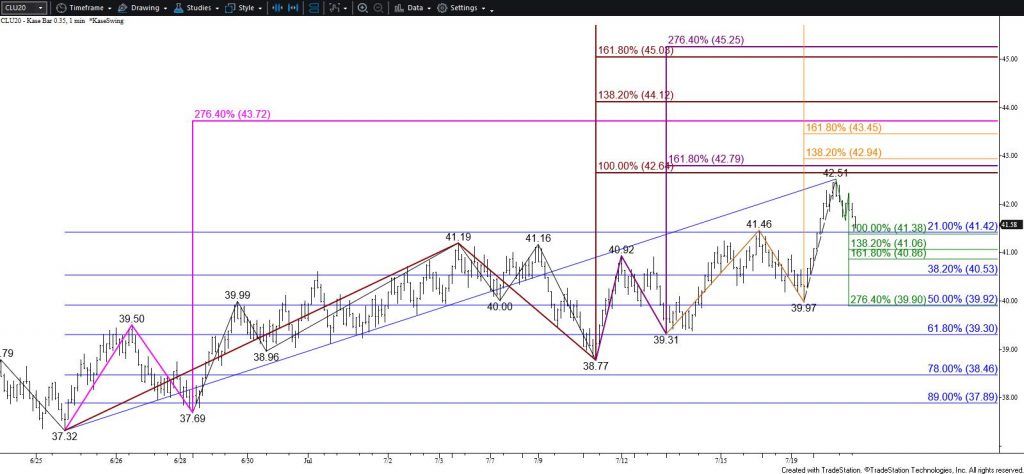 Either way, there is a lot of important resistance between $43.5 and $44.3. Therefore, another reasonably significant test of support is expected before WTI settles above $44.3.
There is also a good chance for a test of $40.8 early tomorrow before the move up continues. This is because today's long upper shadow suggests traders remain hesitant to keep risk on overnight. This move down from $42.51 was likely profit-taking but formed a wave that projects to $40.8 as the larger than (1.618) target. This is also today's open. Support at $40.8 must hold for the move up to extend above $42.6 during the next few days. Falling below $40.8 will call for key near-term support at $39.9. Settling below $39.9 would shift near-term odds in favor of $39.3 and possibly $38.2.
Brent Crude Oil Price Forecast
Brent finally settled above $43.9 and broke higher out of its recent trading range. The move up is poised to reach $45.0, a close above which would call for $45.7 and likely $46.4. The $46.4 objective is the most confluent wave projection. Therefore, another small test of support is expected once $46.4 is met.
The decline at the end of the day formed a long upper shadow on the daily candlestick. This was likely profit-taking but suggests traders remain nervous about the prospects for a larger move up in the coming days. There is also a small wave down from $44.89 that projects to $43.2. This is in line with today's open and is expected to hold. Key support is $42.3, a close below which would call for $41.7 and likely $40.7.
This is a brief analysis for the next day or so. Our weekly Crude Oil Forecast and daily updates are much more detailed and thorough energy price forecasts that cover WTI, Brent, RBOB Gasoline, Diesel, and spreads. If you are interested in learning more, please sign up for a complimentary four-week trial.