WTI Crude Oil Price Forecast
WTI crude oil has traded in a narrowing range that likely forms a bullish coil after stalling at $41.08 late last week. Most trend indicators on the daily chart still lean bullish and the wave formations continue to call for another test of $41.2 after holding support near $39.2 today. This is because the most recent wave up from $38.54 met its smaller than (0.618) target this afternoon. Most waves that meet the smaller than target extend to at least their equal to (1.00) target, in this case, $41.2.
The $41.2 objective has been resilient resistance for the past few weeks. It is the most confluent wave projection for the August contract and is in line with the March 9 gap down from $41.05 on the continuation chart. Settling above $41.2 will be quite bullish for the near-term outlook, clearing the way for $42.5 and likely higher.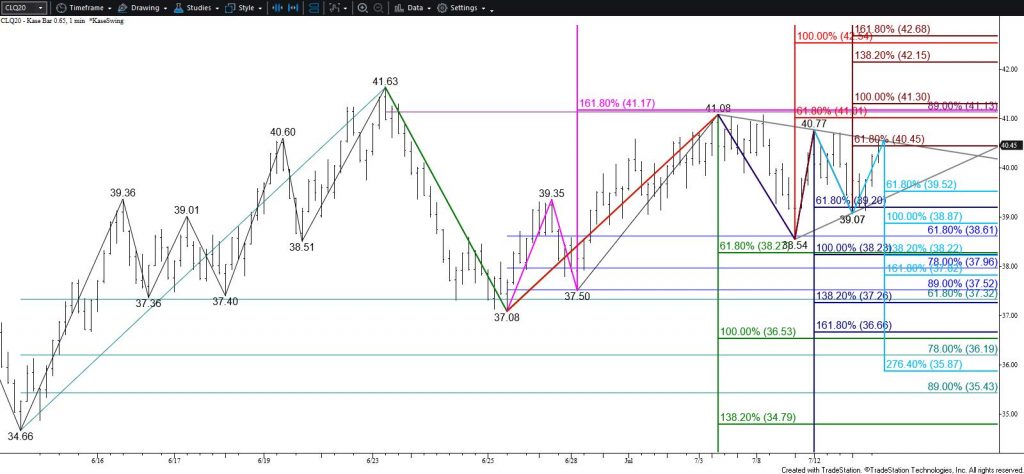 Nevertheless, during the past few weeks, each time WTI looks as though it is ready to overcome $41.2 the move up stalls. Therefore, caution is warranted as it will likely take help from external factors for WTI to finally settle above $41.2 and make the push for the next leg of the larger scale move up.
Conversely, should WTI fall below $39.5, the coil will break lower and the move down should then extend to at least $38.8 and likely $38.2. Support at $38.2 is key for the near-term because it is the smaller than target of the wave down from $41.63. Closing below this will open the way for an extended downward correction to $36.5 and possibly lower.
Brent Crude Oil Price Forecast
Brent is trading in a sideways narrowing range that forms a bullish coil. Odds favor a break higher out of the coil and a test of $43.9. This is the most confluent objective and a key target because a close above $43.9 will clear the way for the next leg of the move up to $45.2 and higher.
Nonetheless, during the past few weeks, each time Brent is poised to challenge $43.9 the move up has stalled. Should Brent fall below $42.0 first the coil will break lower and odds will shift in favor of $41.0. This is the smaller than (0.618) target of the primary wave down from $43.97 and connects to $39.4 and lower.
This is a brief analysis for the next day or so. Our weekly Crude Oil Forecast and daily updates are much more detailed and thorough energy price forecasts that cover WTI, Brent, RBOB Gasoline, Diesel, and spreads. If you are interested in learning more, please sign up for a complimentary four-week trial.