WTI Crude Oil Technical Analysis and Short-Term Forecast
WTI crude oil stalled at $69.19 and formed a daily bullish hammer. Today's prices action was lackluster compared to Monday's sell-off and suggests that the move down will probably prove to be another short-lived correction. Moreover, the wave formation up from $69.19 calls for a test of at least $71.5, which then connects to $72.5. For the move down to extend again during the next few days $72.5 must hold. Closing above this will complete the hammer, overcome the 62 percent retracement of the decline from $74.2, and call for a test of the hammer's $73.9 confirmation point.
With that said, today's hammer is not enough to definitively state that the move down is complete. Falling below $69.8 before overcoming $71.5 will call for a test of $68.5. This is a crucial level because it is the 62 percent retracement of the rise from $65.01. Taking out $68.5 will significantly dampen odds for a continued rise and call for key support at $67.6 to be challenged. This threshold is split between the smaller than (0.618) target of the waves down from $76.07 and $74.2. Settling below $67.6 will open the way for $65.9 and likely lower in the coming days.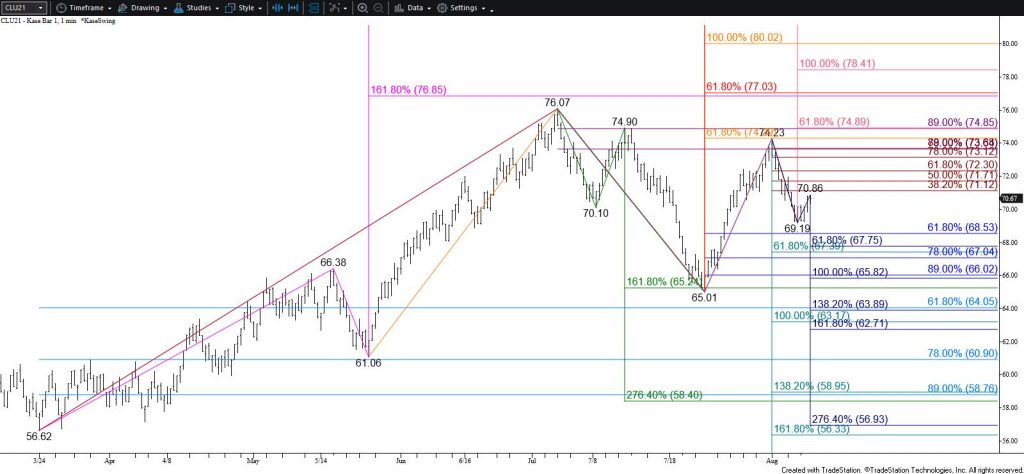 This is a brief analysis for the next day or so. Our weekly Crude Oil Forecast and daily updates are much more detailed and thorough energy price forecasts that cover WTI, Brent, RBOB Gasoline, Diesel, and spreads. If you are interested in learning more, please sign up for a complimentary four-week trial.