WTI Crude Oil Technical Analysis and Short-Term Forecast
WTI crude oil is working its way toward the top of the trading range that prices have been oscillating in during the past few weeks. The outlook remains tight, and the range still looks corrective of the decline from $67.79. Nevertheless, near-term odds favor a test of $61.4. This is the equal to (1.00) target of the wave up from $57.63. Settling above $61.4 will call for $62.5, which then connects to a bullish decision point at $63.8. Settling above $63.8 would imply that the move down from $67.79 is complete and clear the way for $65.6 and higher.
With that said, caution is warranted because the move up has not been able to overcome the $60.90 intra-day swing high during the last few days. Moreover, during the past few weeks each time WTI looks poised to break higher or lower out of the range the move has stalled and reversed course. Therefore, should WTI crude oil take out $59.1 tomorrow look for a test of $58.0, which then connects to a highly confluent support level at $57.0. Settling below $57.0 would call for a test of a bearish decision point at $55.7.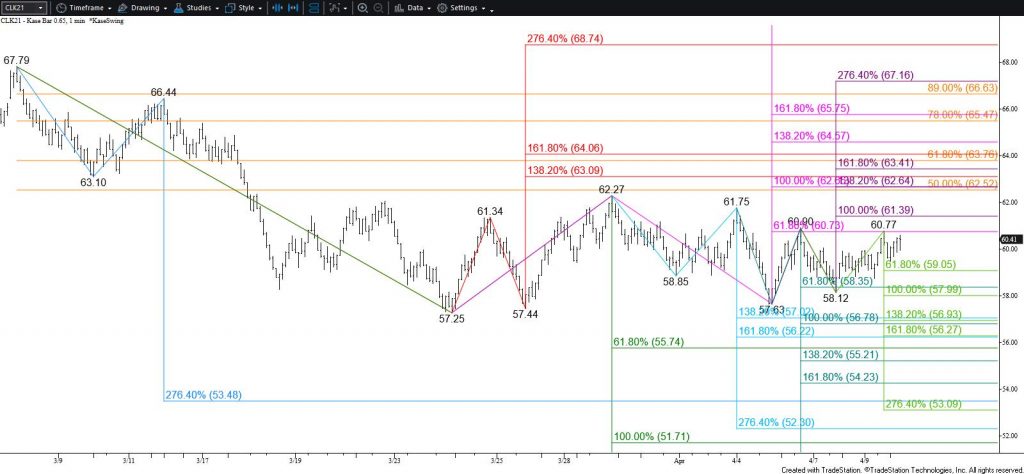 This is a brief analysis for the next day or so. Our weekly Crude Oil Forecast and daily updates are much more detailed and thorough energy price forecasts that cover WTI, Brent, RBOB Gasoline, Diesel, and spreads. If you are interested in learning more, please sign up for a complimentary four-week trial.