The crude oil price surge over the last few weeks was reportedly due to slipping U.S. production, a weaker U.S. dollar, and several production outages. However, some pundits are growing concerned that swelling OPEC output could keep the market oversupplied and turn prices lower.
The move up stalled near a highly confluent $46.0 target late last week, and June WTI challenged crucial support at $44.5 on Monday. This is near the 1.00 projection of the wave $46.78 – 45.24 – 46.15, and is in line with the prior swing high of $44.49.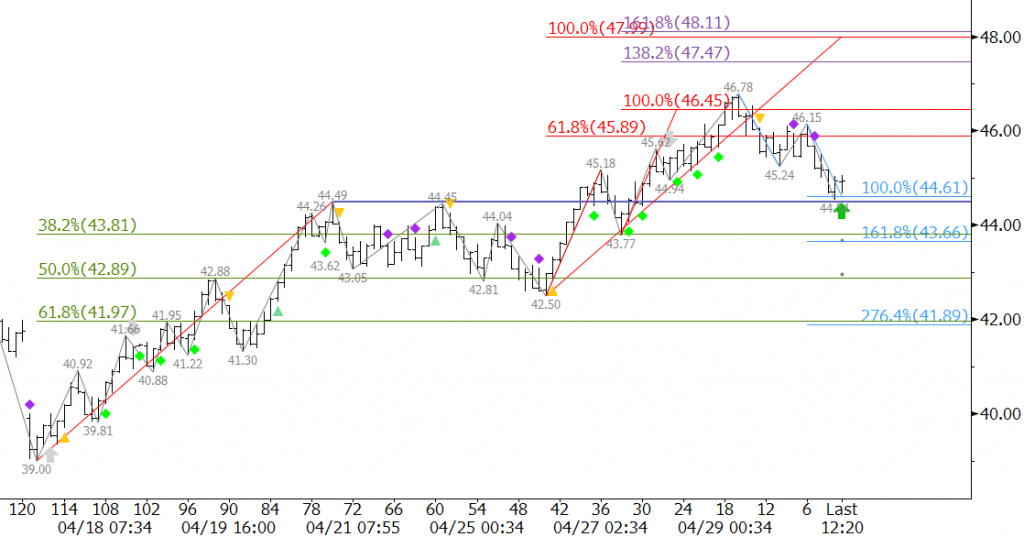 In addition, Friday's bearish Harami line and star was confirmed and several bearish divergences were triggered on Monday.
At this point, there is no strong technical evidence that the pullback will end. Therefore, the move down should extend to at least $43.7, $42.9, and possibly $41.9 over the next few days
That said, at this point the move down is corrective, and unless the $42.5 swing low is taken out, longer-term odds will favor the move up. A close over the $46.15 swing high will shift near-term odds back in favor of $48.0.
This is a brief analysis and outlook for the next day or so. Our weekly Crude Oil Commentary is a much more detailed and thorough energy price forecast. If you are interested in learning more, please sign up for a complimentary four-week trial.