Natural gas's recent upward correction has been driven by cold weather, and still has a modest chance to extend. However, the key question that should be asked is how long will natural gas prices be able to sustain upward momentum once weather moderates? Several technical factors are already showing that the move up may be over, and that a continued decline may take place sooner than some might have expected.
The move up stalled at $3.045 on Monday morning. From a technical standpoint, this was a bit disappointing because the wave $2.589 – 2.891 – 2.681, which had previously met it 1.00 projection, failed to meet its 1.382 target at $3.098. This was especially negative because Monday's decline and close below Friday's $2.91 midpoint triggered a bearish Dark Cloud Cover (marked by the Kase Candles indicator's pink dot and DarkC label). Dark cloud covers are reversal patterns, and the formation would be confirmed upon a close below Friday's $2.852 open.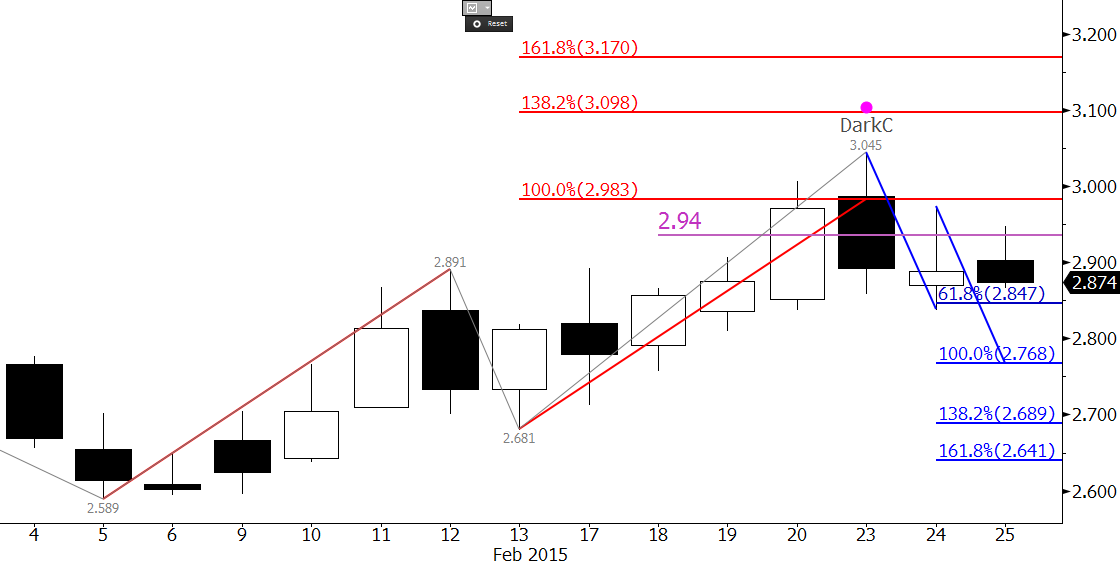 Subsequently, the attempted moves up on Tuesday and Wednesday have failed to close over the $2.94 midpoint of Monday. A close over $2.94 would negate the dark cloud cover, and open the way for another attempt at $3.098 and $3.17, the 1.382 and 1.618 targets for the primary wave up from $2.589, respectively. However, the failure to close over $2.94, so far at least, is negative.
The key for the down move will be a close below $2.85. As previously stated, $2.85 is the confirmation point for the dark cloud cover. It is also the 0.618 projection for the wave $3.045 – 2.839 – 2.974. Therefore, a close below $2.85 would call for at least $2.77. In our detailed weekly price forecast, $2.77 was pegged as the major decision point for a continued decline and retest of the $2.589 contract low. As shown by the blue wave extensions, at minimum, a close below $2.77 should clear the way for the 1.618 projection at $2.64.
Unless there is a shock from tomorrow's U.S. Energy Information Administration (EIA) Natural Gas Weekly Update, it looks as though the move up has stalled, and that major test of support at $2.77 will take place in the next few days. The near-term outlook for natural gas prices is not yet technically bearish, but a sustained close below $2.77 will help to shift the bias strongly in that direction.