Natural Gas Technical Analysis and Near-Term Outlook
Natural gas held major support at $2.43 and today's move up implies that a larger test of resistance should take place tomorrow. The move up is still considered to be corrective of the recent decline and must settle above $2.67 to state that the move down might be complete. Natural gas will have to settle above $2.78 to reestablish a firm bullish outlook. Such a move is doubtful without a significant boost from external factors.
Near-term odds favor at least $2.60 and likely $2.67. These are the smaller than (0.618) and equal to (1.00) targets of the primary wave up from $2.425. The $2.67 objective is also near the 38 percent retracement of the decline from $3.002 and is Tuesday's midpoint. Settling above this would suggest that the move down is complete. However, as stated above, November natural gas will have to settle above $2.78 to confirm a bullish outlook.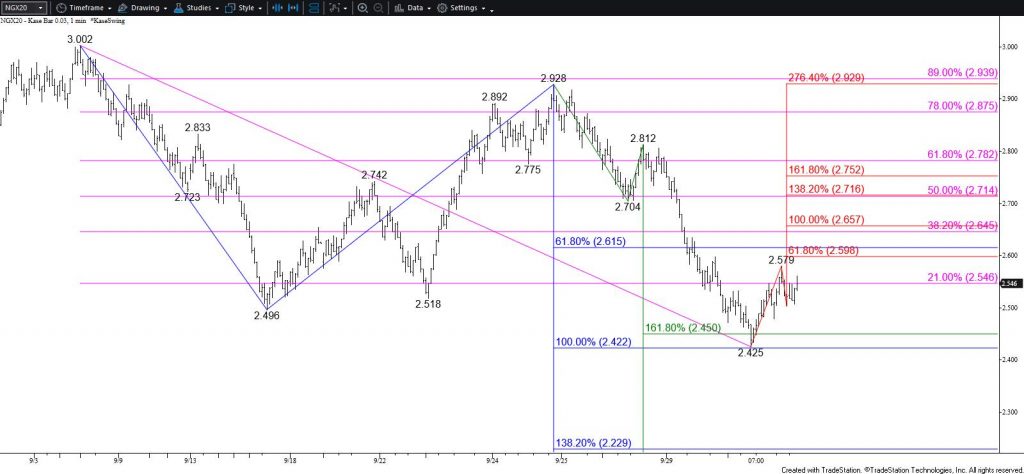 With that said, the overarching bias remains bearish due to Tuesday's decline and the large seasonal rollover gap on the continuation chart. Even so, $2.43 is major support that could form a bullish base because it is the equal to target of the wave down from $3.002, the 62 percent retracement of the rise from $2.072, and the 200-day moving average. Therefore, while $2.43 holds, near-term odds will continue to favor a larger test of resistance.
Should natural gas take out $2.48 early tomorrow look for another test of $2.43. Settling below this will call for a much more significant move down before stalling again.
This is a brief analysis for the next day or so. Our weekly Natural Gas Commentary and daily updates are much more detailed and thorough energy price forecasts that cover key natural gas futures contracts, calendar spreads, the UNG ETF, and several electricity contracts. If you are interested in learning more, please sign up for a complimentary four-week trial.