Natural Gas Technical Analysis and Near-Term Outlook
October natural gas finally rallied after holding support around $1.82. The prompt month's move up should be bolstered by rising winter prices and a bullish shift in near-term external factors.
October settled below $2.16, the 38 percent retracement of the decline from $2.743 and the XC (2.764) projection. This objective was also in line with October's 100- and 200-day moving averages. Nevertheless, the post-settlement rise to $2.207 implies that near-term sentiment remains bullish headed into tomorrow.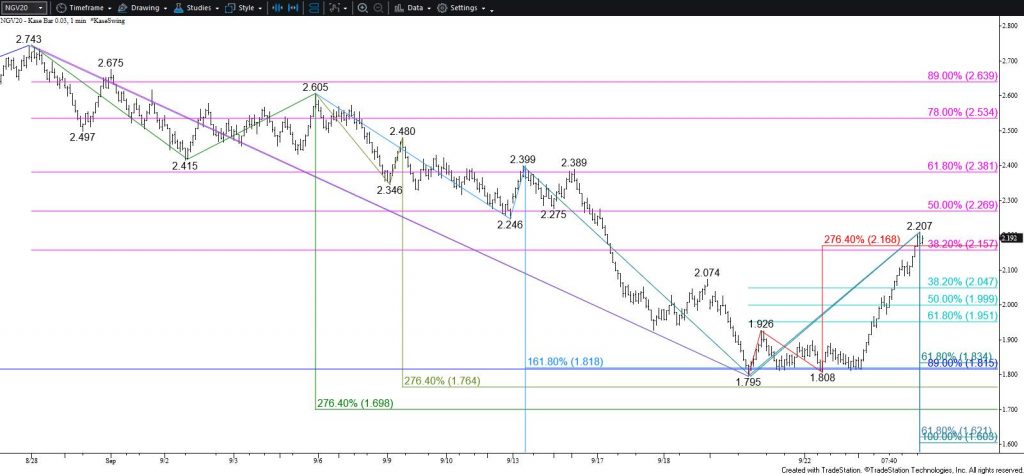 The next major objectives for October natural gas are $2.27 and $2.38. The $2.27 target is the 50 percent retracement from $2.743 and 50-day moving average. The $2.38 target is the 62 percent retracement. Settling above $2.38 will call for $2.44, the smaller than (0.618) target of the wave up from $1.70 that connects to $2.84 and higher.
The challenge for tomorrow is that the wave formation up from $1.795 does not project any higher than $2.22. This is the trend terminus for that wave and the move up from $1.808 lacks a clear wave structure. Therefore, there is a good chance for a test of support before prices rise much higher.
There is immediate support at $2.11 but given the increase in volatility, a test of $2.05 is probable. Key support is $1.99. This is the 50 percent retracement of the rise from $1.795 and today's midpoint. Closing below $1.99 would call for $1.95 and $1.84, the latter of which is the barrier to an unlikely bearish outlook in the coming weeks.
This is a brief analysis for the next day or so. Our weekly Natural Gas Commentary and daily updates are much more detailed and thorough energy price forecasts that cover key natural gas futures contracts, calendar spreads, the UNG ETF, and several electricity contracts. If you are interested in learning more, please sign up for a complimentary four-week trial.