Natural Gas Technical Analysis and Near-Term Outlook
The near-term outlook for natural gas is bullish after meeting the smaller than (0.618) target of the primary wave up from $2.425 and settling above the 62 percent retracement of the decline from $2.835 and the 50-day moving average. Closing above $2.74 will call for a test of $2.78, the smaller than (0.618) target of the primary wave up from $2.268. This is also the barrier to a more bullish outlook during the next few weeks.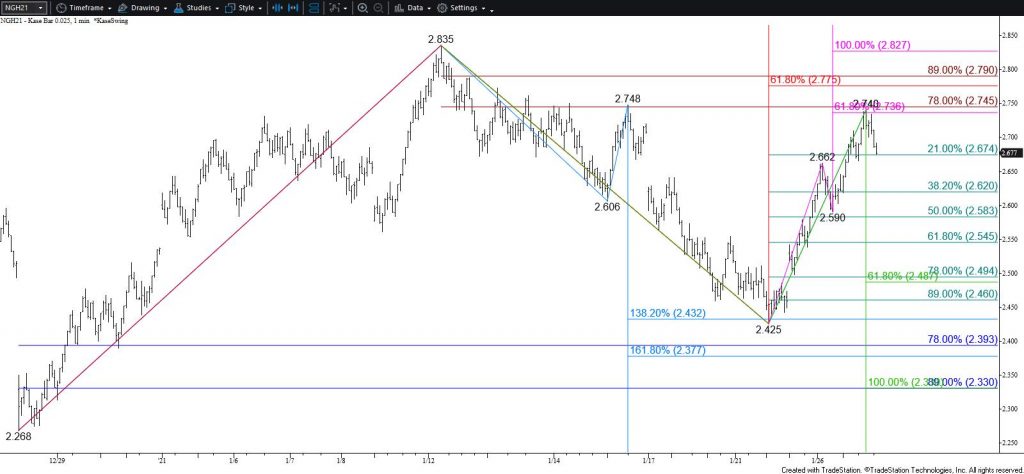 With that said, overcoming $2.78 will require another significant boost from bullish external factors (e.g., cold weather). Without such a spark there is still a reasonable chance that natural gas prices are settling into a trading range between nominally $2.78 and $2.49.
To that end, this afternoon's pullback from today's $2.74 high has already retraced 21 percent of the rise from $2.425. This pullback suggests that there is a reasonable chance for a deeper test of support before rising to challenge $2.74 again. For the move up to overcome $2.74 and make the push to $2.78 during the next few days, $2.62 must hold. Closing below this would signal that a trading range is forming and call for $2.55 and possibly $2.49. The $2.49 level is the gateway for a bearish outlook because this is the smaller than target of the newly formed primary wave down from $2.835.
This is a brief analysis for the next day or so. Our weekly Natural Gas Commentary and daily updates are much more detailed and thorough energy price forecasts that cover key natural gas futures contracts, calendar spreads, the UNG ETF, and several electricity contracts. If you are interested in learning more, please sign up for a complimentary four-week trial.