Natural gas rose in an aggressive manner again today and settled above the 62 percent retracement of the decline from $2.044. This suggests prices will likely rise to challenge $2.00 and possibly higher again soon. There are no reversal patterns or setups that call for the move up to stall. However, there is a significant objective at $1.93 as the larger than (0.618) target of the only decipherable wave up from $1.521. This is also the 78 percent retracement of the decline from $2.044. Therefore, because the move up currently lacks a wave structure that can support a move above $2.00, there is a good chance natural gas will stall near $1.93. From there, a downward correction should take place before prices rise to $2.00 and higher.
The key for the move up will be holding resistance at $1.76 on a test of support. Since February, there have been two other moves up on the continuation chart to challenge resistance around or just above $2.00. Both moves, one up from $1.753 to $2.025 and then other from $1.610 to $1.998, failed on the first sign of any weakness and a test of support. Therefore, until a reasonable test of support holds it will be hard to call for a sustainable move above $2.00.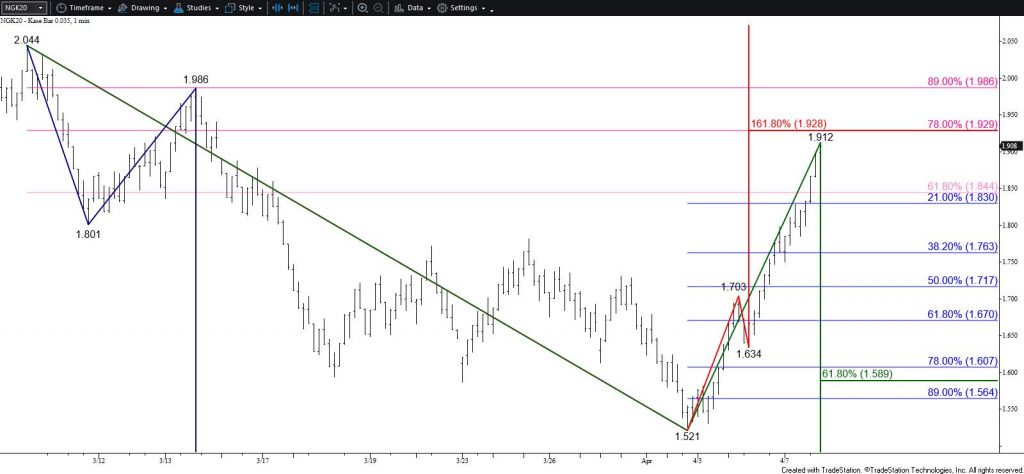 For May natural gas the key threshold is $1.76, the 38 percent retracement of the move up from $1.521. Closing below this would suggest the move up has failed again and would call for $1.67 and possibly $1.59. The latter of these is the smaller than target of the wave down from $2.044 and connects to targets well below the current $1.521 contract low.
This is a brief analysis for the next day or so. Our weekly Natural Gas Commentary and daily updates are much more detailed and thorough energy price forecasts that cover key natural gas futures contracts, calendar spreads, the UNG ETF, and several electricity contracts. If you are interested in learning more, please sign up for a complimentary four-week trial.