By Dean Rogers
As we stated last week, the natural gas call is extremely tight right now. The market can only tell us what it knows about itself, and right now the market is not sure what it knows.
The move up from $2.188 stalled at $2.398 on November 6, and since then prices have worked their way lower in an extremely choppy manner to test major support at $2.25. This level held on today's close, so technically prices are still trading within the range.
The market is waiting on cold weather to push it higher, but today's price action did not help short-term bulls. It will eventually get cold and prices will rise, but today's decline to $2.25 puts odds slightly in favor (around 60 percent) of a decline to test least $2.20 and possibly $2.12 over the next few days.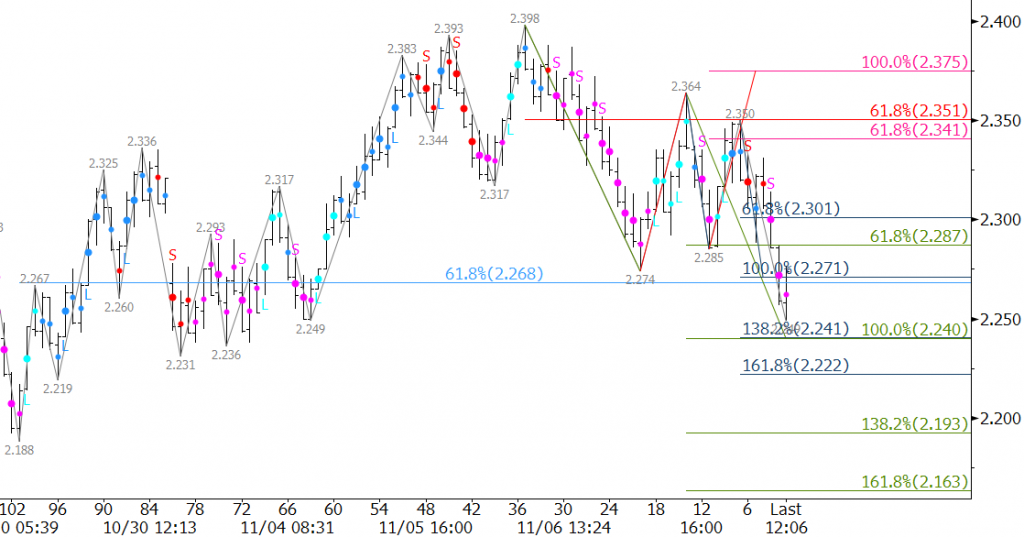 That said, $2.25 is an extremely important and highly confluent wave projection and retracement that has been tested a few times and has held on a closing basis since the move up from $2.188 began on October 30. Therefore, caution is warranted, and given the circumstances, we would not be at all surprised to see $2.25 continue to hold.
From a trading strategy standpoint, this is a time that we would normally recommend sitting on the sidelines for a bit while waiting for a more concise direction and break out of the $2.25 to $2.37 range. Upon a close below $2.25 or above $2.37, a trade may be taken upon a confirming long or short signal from indicators like Kase StatWare or KaseX. Shorter bar lengths are also recommended because they will help limit risk and should be used to pinpoint entries and exits and determine stop levels until there is a close either below $2.12 or above $2.48. At that point a clear long-term trend will have been established and trades may then be scaled to longer bar lengths with wider stops.
This is a brief natural gas forecast ahead of tomorrow's EIA report. Our weekly Natural Gas Commentary is a much more detailed and thorough analysis. If you are interested in learning more, please sign up for a complimentary four week trial.