Media sources indicate natural gas prices rose for the third straight session on Wednesday due to concerns that a storm could enter the Gulf of Mexico. However, hurricane threats to production are not as alarming as they had been in the past. The Gulf of Mexico accounts for less than five percent of domestic natural gas production. Most production has moved onshore due to the shale boom in recent years. In fact, many analysts, including ourselves, believe that a hurricane in the Gulf of Mexico would rather lead to decreased demand due to power outages and other disruptions.
Whatever the reasons (and there are likely many) for the increase in natural gas prices over the past few days, it is doubtful that a storm or hurricane entering the Gulf of Mexico will do much in the way of bolstering a price spike.
From a technical perspective, September natural gas rose to key resistance at $2.81 early Wednesday. This is the 62 percent retracement of the decline from $2.99 to $2.523 and the 1.382 projection of the wave $2.523 – 2.697 – 2.569. The 1.618 projection is $2.85, which is also near the trend line connecting $2.99 and $2.911. A close over $2.85 would call for $2.911 to be overcome and for prices to possibly challenge $2.99 and higher.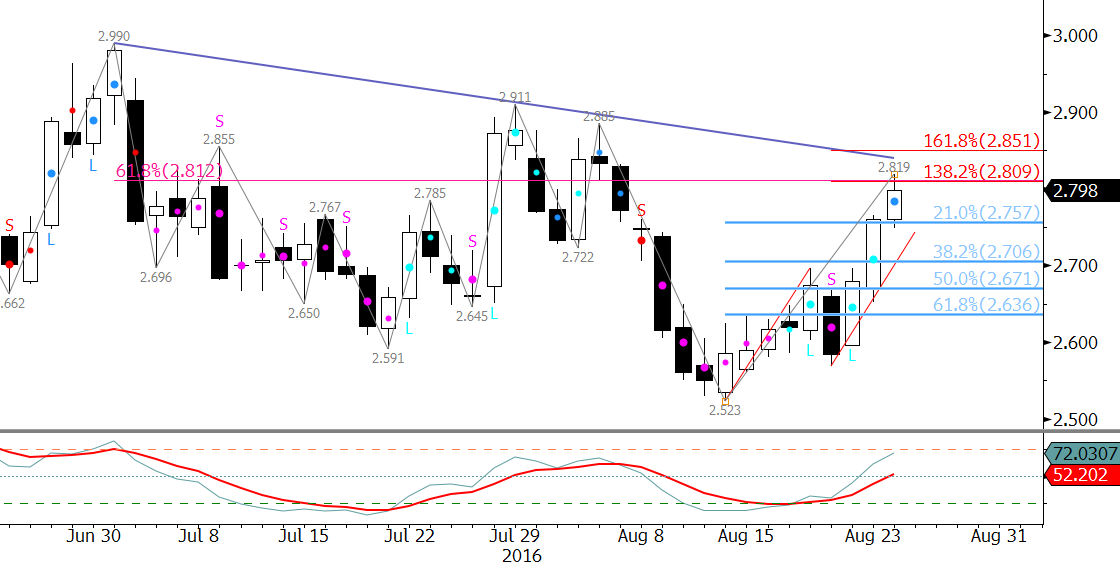 That said, the range between $2.81 and $2.85 is a prime area for the move up to stall. Wednesday settled at $2.796 and prices have already started to pullback in late trading Wednesday afternoon. Look for initial support at $2.76 and $2.71. The latter should hold if the move up is going to continue because it is the 38 percent retracement from $2.523 to $2.819. The 62 percent retracement of this move defines key support for the near term at $2.64.
The most likely scenario right now is for prices to settle back into a trading range between nominally $2.64 and $2.85. This range dominated trading for most of July and could become dominant again in coming weeks as we move into the heart of shoulder month trading ahead of winter.
This is a brief natural gas forecast for the next day or so. Our weekly Natural Gas Commentary and intraweek updates provide a much more detailed and thorough analysis. If you are interested in learning more, please sign up for a complimentary four-week trial.