By Dean Rogers
For several weeks natural gas has been trading within a range bound between $2.65 and $2.95, and more recently between $2.71 and $2.88. On Wednesday natural gas prices closed at the highest level since May 21 at $2.931, and the first class KEES permissions (blue dots) confirm the positive tone. Natural gas futures are now poised to overcome $2.95 and challenge $3.00. This is a confluent projection for the waves up from $2.656 and $2.706.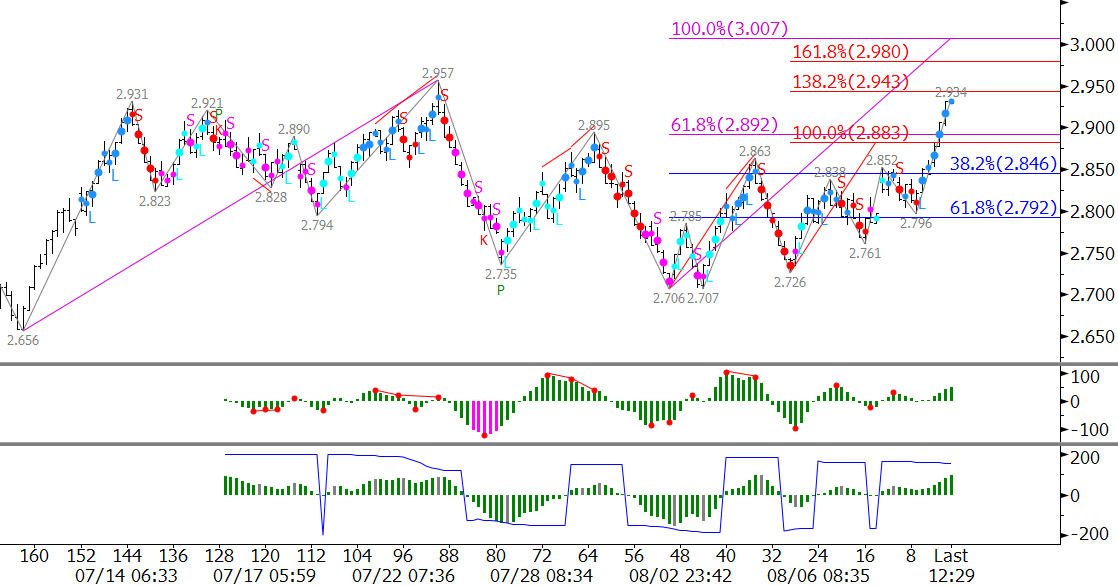 A close over $3.00 will open the way for an extended upward correction, but keep in mind, this rally may be short lived as the end of summer and its warm weather are rapidly approaching. This upward correction may very well be the last hurrah before the end of summer, and it is going to be a lot easier for longer-term bears to short from $3.00 versus $2.70.
In addition, not only is the market is nearing a past failure point at $2.95, but both the KaseCD and KasePO momentum indicators are setup for bearish divergence. This is a signal that forms when higher price highs are accompanied by lower momentum highs. Bearish divergence is a signal that indicates the move up is exhausted.
Should price turn lower look for support at $2.85 and $2.70. These are the 38 and 62 percent retracements of the move up from $2.706 to $2.934.
This is a brief natural gas forecast ahead of tomorrow's EIA report. Our weekly Natural Gas Commentary is a much more detailed and thorough analysis. If you are interested in learning more, please sign up for a complimentary four week trial. We also offer trials of our trading indicators.