According to some pundits, natural gas's recent move up is due to improved balancing of supply and demand. Government data shows the degree to which inventories are up this year relative to the five-year average has continued to shrink. It has been a hot summer, and demand has remained relatively strong.
That said, production has done well to keep pace with demand during summer, and there is a limit to the amount of gas that can be stored. Many analysts project that injection season will end at or near record levels again this year. Therefore, the market should be well supplied ahead of winter.
Fundamental factors will rule the longer-term. However, there are still many questions that need to be answered over the next six to eight weeks before the market can realistically determine a longer-term direction. For the near-term, a trading range between nominally $2.55 and $2.95 is still the most logical conclusion for now. Keep in mind, for nearly nine months of 2015 the prompt month futures contract traded in this range.
From a technical standpoint, October natural gas was poised to rise to $3.04 after overcoming resistance at $2.86 the $2.947 swing high late last week. The pullback from $2.949 is likely corrective and stalled near $2.81 on Wednesday. This is the 38 percent retracement of the move up from $2.58 and the 1.618 projection of the wave down from $2.949.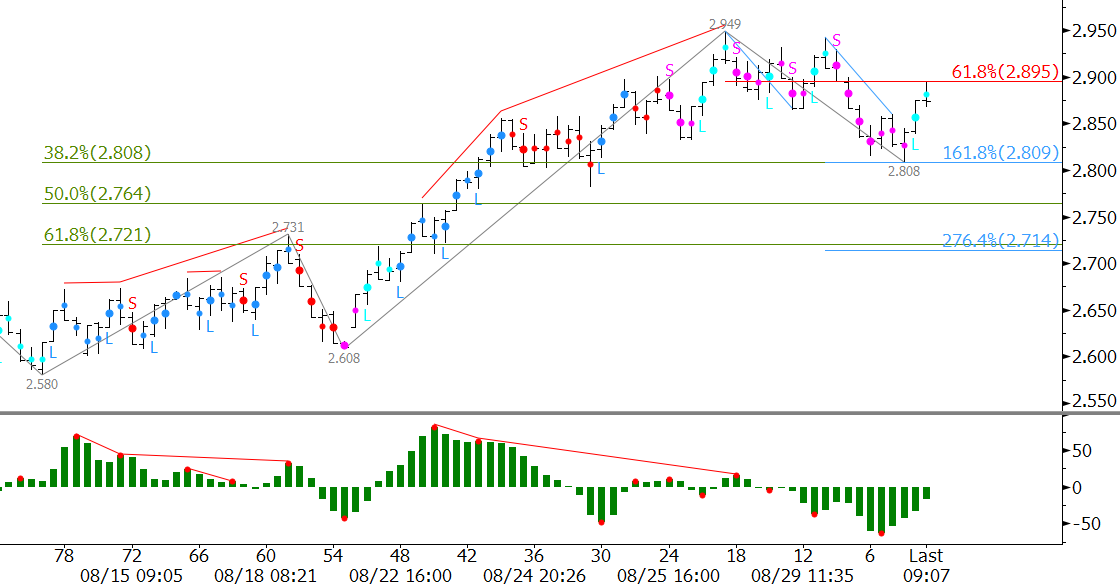 If the move up is going to extend to new highs in the near term, $2.81 needs to hold. In addition, October will need to finally close over $2.95. Otherwise, a close below $2.81 would signal trading range and call for confluent support at $2.71 to be challenged.
This is a brief natural gas forecast for the next day or so. Our weekly Natural Gas Commentary and intraweek updates provide a much more detailed and thorough analysis. If you are interested in learning more, please sign up for a complimentary four-week trial.