For the past few weeks, May natural gas has oscillated in a range between approximately $1.86 and $2.06. The market looks as though it wants to break higher after closing over Monday's gap down from $1.99 on Tuesday and sustaining a close above $2.00 on Wednesday.
May natural gas is working its way toward the crucial $2.06 target again after stalling early on Wednesday at $2.051. Support held and prices recovered late, but formed an evening star setup on the daily chart.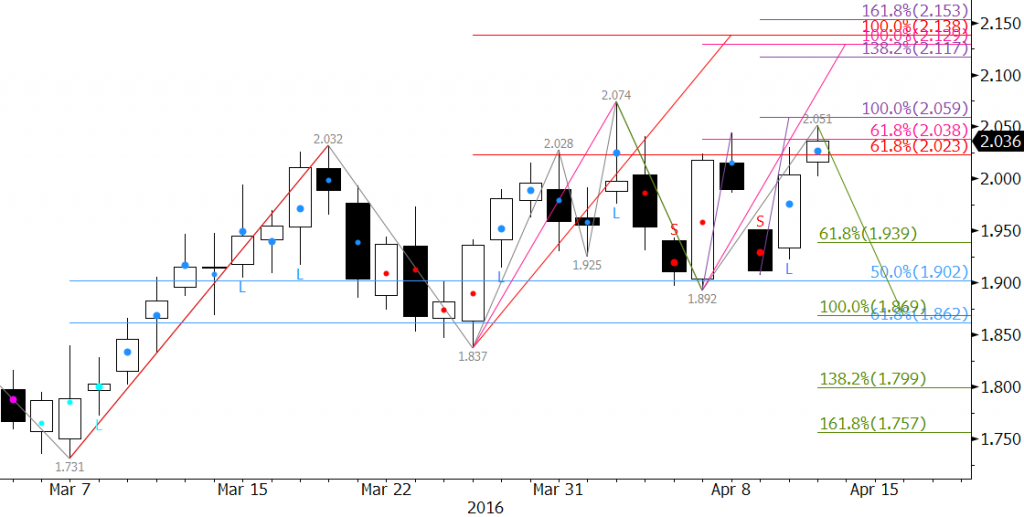 It is still a very tough call, but currently, odds favor another test of $2.06 on Thursday. A close over this would call for $2.10 and likely $2.14 where there is a cluster of wave projections. However, keep in mind the move up is likely weather driven right now and corrective of the longer-term decline. Therefore, without help from external factors, the market will be hard pressed to overcome $2.14.
Initial support at $1.98 should hold on Thursday, but crucial support will be $1.94. A close below $1.94 does not doom the prospects of the move up, but would open the way for a test of the key $1.86 level.
This is a brief natural gas forecast for the next day or so. Our weekly Natural Gas Commentary is a much more detailed and thorough analysis. If you are interested in learning more, please sign up for a complimentary four-week trial.