Natural gas has fallen hard ahead of November's expiration. Speculation that natural gas storage could reach record levels ahead of winter and warmer than normal weather forecasts for the next few weeks are reportedly reasons for falling prices.
Prompt month November futures fell to $2.627 on Wednesday where the 62 percent retracement of the move up from $2.168 to $3.366 was met. Prices rallied into the close and November settled at $2.731. This setup a daily morning star and hammer, which indicates prices may rise to $2.82 and even $2.88 before November expires on Thursday.
The negative outlook has also spilled over into the December contract, which fell below the crucial $3.01 swing low on Wednesday. This was negative because the move below $3.01 takes out what had been December's primary up wave, $2.37 – 3.368 – 3.01. This significantly dampens the odds for a near-term recovery and a move to new highs.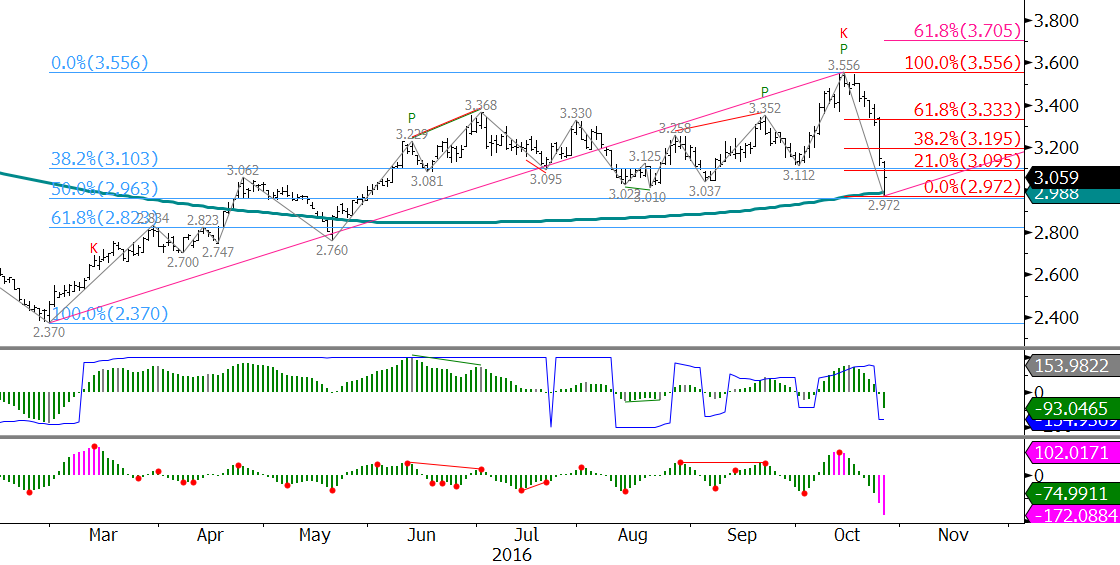 The outlook is negative and there are no definitive technical factors that indicate the move down is over. However, the daily chart is oversold on the KaseCD and setup for a KCDpeak (bullish turn signal). In addition, the 200-day moving average at $2.99 held on a closing basis. These factors and the rally from $2.972 to $3.083 indicate an upward correction to at least $3.13 should take place Thursday. From that point, the move down may continue, or at least test $2.99 again. A close over $3.13 would call for a larger correction to $3.20 and possibly $3.26. This would also indicate a trading range is likely on the horizon.
The 200-day average at $2.99 will be December's crucial support on Thursday. A close below this would solidify the negative outlook and open the way for $2.93 and lower. Below $2.99, the next major target is $2.82. This is the 62 percent retracement from $2.37 to $3.556.
This is a brief natural gas forecast for the next day or so. Our weekly Natural Gas Commentary and intra-week updates provide a much more detailed and thorough analysis. If you are interested in learning more, please sign up for a complimentary four-week trial.