Natural gas continues to hold the lower end of the trading range between $2.65 and $2.95 on a closing basis. October natural gas futures stalled at $2.641 and subsequently formed a bearish flag (blue trend lines). Flags are generally a reliable type of continuation pattern, which means the flag should break lower soon. The next targets are $2.62 and $2.55.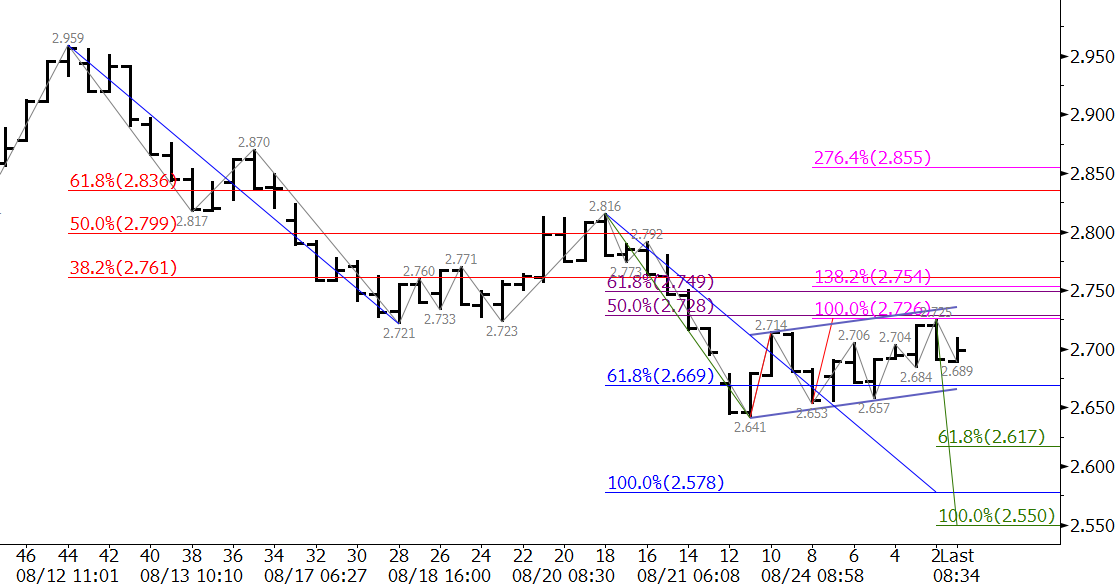 A daily morning star setup (not shown) indicates the upward correction may extend. Resistance at $2.75 should hold. This is the 38 percent retracement from $2.959, the 62 percent retracement from $2.816, and the 1.382 projection of the wave up from $2.641. A close over $2.75 would confirm the morning star and call for an extended correction $2.80 and possibly $2.85.
Overall, our bias remains negative. Therefore, even if prices rose to test resistance we expect $2.75 to hold and for natural gas to continue its decline.
This is a brief natural gas forecast ahead of tomorrow's EIA report. Our weekly Natural Gas Commentary is a much more detailed and thorough analysis. If you are interested in learning more, please sign up for a complimentary four week trial.